Autumn's Best Cooked Apples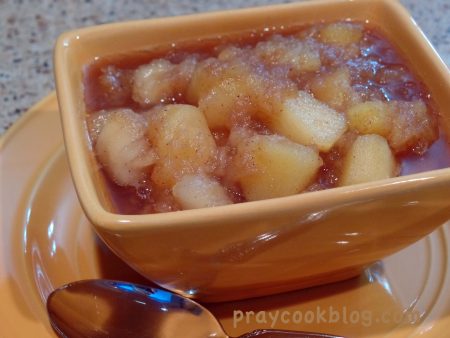 Author:
Adapted by Catherine Daugherty
Recipe type:
Breakfast, Side Dish, Snack!
6 apples - your choice of variety - you can also mix and match for awesome flavors
water
2 Tablespoons to ¼ cup brown sugar*
2 Teaspoons vanilla extract
1 teaspoon apple pie spice or cinnamon
Peel apples and cut in 1" chunks. Place in 2-3 quart saucepan.
Cover bottom of a saucepan with ½" to 1" of water. If the apples are not a juicy variety, you may add more water as they cook.
Sprinkle with spice.
Cook over medium bringing to a boil and then turn down to simmer. Add sugar. Cook at least 10 to 15 minutes until apples are starting to release juice. Stir often. Stirring a bit briskly will mush the apples some and provide more of an "applesauce".
Add more water if there is not enough juice released to cook the apples.
Check taste for sweetness - sugar to taste. Add vanilla extract.
Remove from stove, cool slightly, Enjoy!
* Apples can be sprinkled with Jack Daniels Whiskey or favorite bourbon before serving for an added kick of conversation!
* Spice can be varied to taste.
* Honey may be used in place of brown sugar.
Recipe by
Pray Cook Blog
at https://praycookblog.com/autumns-best-cooked-apples/