Southern Living's Skillet Caramel Apple Pie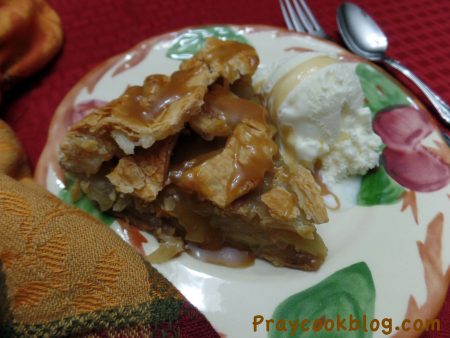 Author:
Adapted by Catherine Daugherty
1 (14.1-oz.) pkg. refrigerated piecrusts
1 cup packed light brown sugar
½ cup unsalted butter
3 tablespoons half-and-half
1 teaspoon kosher salt
1 teaspoon vanilla extract
1 tablespoon bourbon or whiskey *(optional)
3 pounds Fuji apples (about 4½ medium apples), peeled and cut into ½-inch-thick slices
2½ tablespoons cornstarch
1 large egg yolk, lightly beaten
1 tablespoon water
Fit 1 piecrust on the bottom and press up sides of a 9-inch cast-iron skillet. Transfer skillet to refrigerator, and let chill while assembling caramel sauce and apple filling.
Preheat oven to 425°F.
Stir together light brown sugar, butter, half-and-half, and salt in a medium saucepan over medium-high. Cook, stirring, until butter melts and mixture begins to bubble, about 5 minutes. Cook, stirring, until mixture begins to thicken, about 2 more minutes. Remove from heat; stir in vanilla extract, and, if desired, bourbon or whiskey*. Let caramel sauce cool to almost room temperature, about 30 minutes.
Toss apples with cornstarch in a large bowl.
Pour ⅓ cup caramel sauce over apples, and toss to coat. Reserve remaining caramel sauce for serving. Pour apple filling into prepared skillet.
Place remaining piecrust over apple filling. Crimp edges of bottom and top crusts together.
Using a sharp knife, cut 6 to 8 (1-inch) slits in top crust for steam to escape. Whisk together egg yolk and water in a small bowl; brush over crust.
Bake pie in preheated oven on middle oven rack until crust is golden, apples are tender, and filling is bubbly, about 55 minutes to 1 hour, shielding loosely with aluminum foil after about 40 minutes to prevent excessive browning. Transfer pie to a wire rack, and cool completely, about 3 hours. Serve with reserved caramel sauce.
*Bourbon or Whiskey optional for a little boozy-flavoring.
Recipe by
Pray Cook Blog
at https://praycookblog.com/southern-livings-skillet-caramel-apple-pie/