SPIESSBRATEN, IDAR-OBERSTEIN STYLE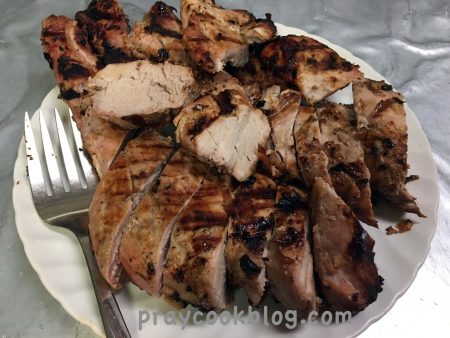 Author:
Adapted by Russ McCullum
Serves:
2-3 servings per pound
1 lb pork tenderloin
1 large yellow onion, chopped
1 garlic clove, minced
4 pinches salt (or to taste)
4 pinches black pepper (or to taste)
Mix the 4 ingredient spices with your hands, squeezing the onions until they get juicy.
Place some of the spice mixture in a dish, place the meat on top and cover with the rest of the mixture.
Cover the dish and marinate for 24 hours or up to 30 hours.
Fire up the grill and when it has its cooking temperature of 350 F, remove the marinade from the meat and grill to desired doneness, 30 to 40 minutes.
Depending on the thickness of the pork tenderloin, make sure you don't overcook the meat. Take it off the grill when it is still flexible when you press on it with your finger. Place it in an oven dish, cover it and let it rest in the oven at about 200 degrees for 10 minutes. This gives the juices a chance to settle and the meat will be soooo tender.
Slice and enjoy!
1 lb will feed 2 to 3 people. Normally you will make 3 to 4 lbs. at a time.
Recipe by
Pray Cook Blog
at https://praycookblog.com/spiessbraten-idar-oberstein-style/