Alice's Delicious Broccoli Salad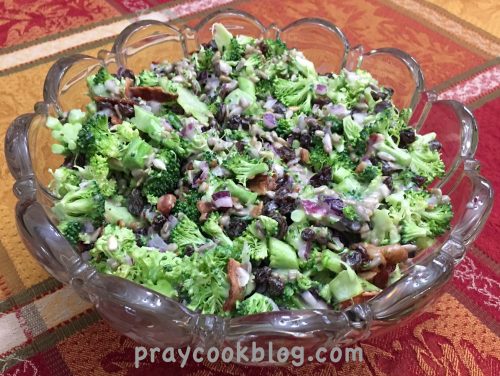 Author:
Adapted by Catherine Daugherty
2 bunches of broccoli, washed, cleaned and diced up
¼ to ½ diced red onion (amount depending on your taste)
6 slices bacon, cooked crisp and crumbled
1 cup raisins
1 cup sunflower seeds
2 Tablespoons vinegar (white, apple, balsamic, your choice)
¼ to ⅓ cup sugar
1 cup mayonnaise or Miracle Whip Salad Dressing
Mix together the first five ingredients.
Stir the vinegar, sugar, and mayo together making sure the sugar dissolves.
Pour dressing over the broccoli mixture and stir well. Place in refrigerator for at least 2 hours or as much as overnight.
Stire and Enjoy!
Recipe by
Pray Cook Blog
at https://praycookblog.com/clean-my-house-or-make-alices-delicious-broccoli-salad/