Fudgy Avocado Brownies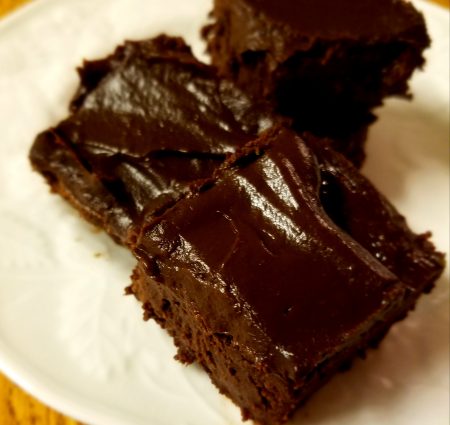 Author:
Adapted by Abby Hughes
1½ cup Dark Chocolate Chips
2 TBS Coconut Oil
2 cups Avocado Puree (4-5 medium hass avocados, soft)
1 cup Honey
2½ tsp. Vanilla Extract
3 Eggs
½ tsp. Salt
1 cup Cocoa Powder
½ cup Coconut Flour (I used coconut protein flour)
Preheat your oven to 400 degrees F.
Line the base of a 9x13 inch pan with parchment paper allowing some overhang. Grease or spray pan.
Melt the dark chocolate and coconut oil in the microwave or over a double boiler.
Puree the avocados in a food processor.
Stir one cup avocado, ½ cup honey, and vanilla into the cooled chocolate.
Add eggs, one at a time.
Stir in coconut flour, ¼ tsp salt, and ½ cup cocoa powder just until mixed.
Pour batter into pan and bake for 12-15 minutes.
While the brownies cook, combine the other cup of avocado, ½ cup honey, ¼ tsp. salt, ½ tsp. vanilla, and ½ cup cocoa powder in the food processor to make the frosting.
When the brownies are done, cool completely before removing from the pan.
Spread frosting in an even layer on top of brownies.
Cut and enjoy!