Roasting Carrots and Other Fun Colors!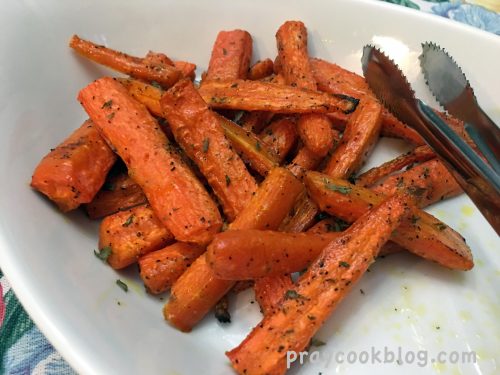 Author:
Adapted by Catherine Daugherty
Recipe type:
Vegetable, Side Dish, Vegetarian
Fresh carrots
Olive oil*
Sea Salt
Fresh Pepper
Chopped parsley* Optional
Pre-heat oven to 400 degrees F.
Peel and slice fresh carrots into equal sized pieces.
Drizzle with olive oil.
Sprinkle with sea salt and cracked pepper.
Spread on baking sheet.
Roast for 20 minutes or until carrots are slightly browned and tender. Do not over-cook.
Sprinkle with chopped parsley and serve.
*Flavored olive oil works well.
I've used blood orange infused olive oil that is fantastic.
Recipe by
Pray Cook Blog
at https://praycookblog.com/fun-colors-of-spring-and-oven-roasted-carrots/