Saturday Scones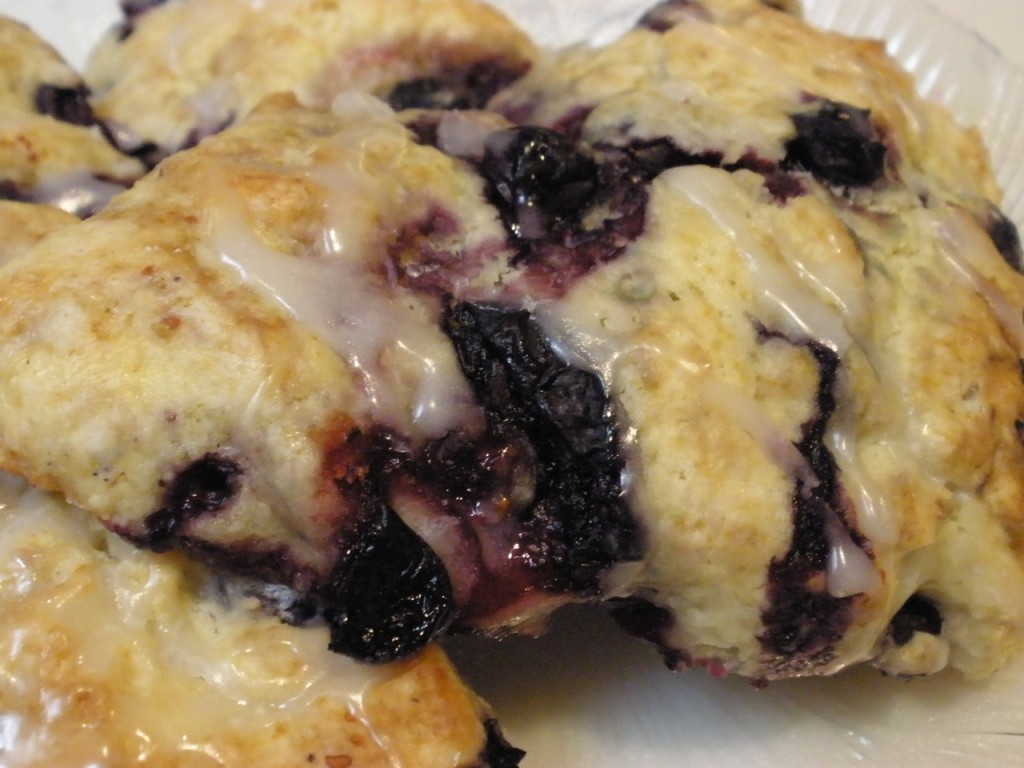 Author:
Shared By Abby Hughes
2 cups all-purpose flour
⅓ cup sugar
1 teaspoon baking powder
1 teaspoon cornstarch
½ teaspoon baking soda
½ teaspoon salt
8 Tablespoons salted butter, softened
1 cup fresh or frozen blueberries
½ cup sour cream
1 large egg
Adjust oven rack to lower-middle position and preheat to 400 degrees.
In a medium bowl, mix first 6 ingredients. Cut in butter with fork or pastry cutter. The mixture should resemble coarse meal.
Stir in blueberries.
In a small bowl, whisk sour cream and egg until smooth.
Using a fork, stir sour cream mixture into flour mixture until large dough clumps form. Use your hands (or a wooden spoon) to press the dough against the bowl into a ball. The dough will be sticky in places, and there may not seem to be enough liquid at first, but as you press, the dough will come together.
Place on a lightly floured surface rolling dough into a log about 20" long. Flatten to make a thick rectangle approximately 1" thick, 4" wide, and 20" long. Use a sharp knife to cut five 4" squares of dough. Cut each square in half along the angle line making 10 triangle shaped scones.
Line a baking pan with parchment paper. Place on pan about 1" apart.
Bake until golden, about 15 to 17 minutes. Cool for 5 minutes and glaze.
Glaze: 2 cups powdered sugar – 2 Tablespoons milk Mix. Drizzle over cooled scones.
Serve warm or at room temperature.