Macaroni & Cheese Casserole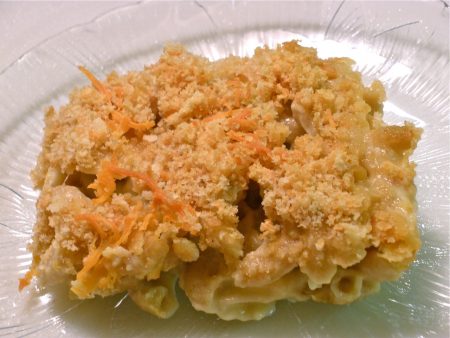 16 oz Elbow pasta
½ cup Unsalted Butter
½ cup All-purpose Flour
1 teaspoon Onion Powder
1 teaspoon Garlic Salt
Salt and Pepper To Taste
5 cup Milk (whole, 2% or 1%)
2½ cup Sharp Cheddar Cheese, shredded
½ cup Pepper Jack Cheese, shredded
1 cup Gruyere Cheese, shredded
15 Ritz Crackers, crushed
1 tablespoon Butter, melted
Preheat the oven to 350 degrees F.
Cook the pasta according to the package directions for al dente. Drain and set aside.

In a large saucepan over medium heat, melt the butter. Whisk in the flour, then add the onion powder, garlic, salt and pepper. Gradually whisk in the milk. Cook, stirring constantly, until the sauce thickens and the mixture begins to bubble slightly. Add the cheese and stir until the cheese melts. Add the cooked pasta and stir to coat the pasta.

Pour the mixture into a slightly greased 9x13-inch baking dish. Mix together the crushed Ritz crackers and the melted butter until add the crumbs are moistened, then sprinkle over the top of the pasta mixture. (Pulsing on and off in a food processor will crush your crackers nicely and then it is easy to add the butter too!)

Bake for 30 minutes, until golden and bubbly. Let stand 10 minutes and serve,
Cooked sausage, cut up hot dogs, diced ham, or chopped broccoli would all make great optional ingredients for this one dish meal!
Recipe by
Pray Cook Blog
at https://praycookblog.com/nothing-says-comfort-food-like-mac-n-cheese/