Bada Bing Cherry Pie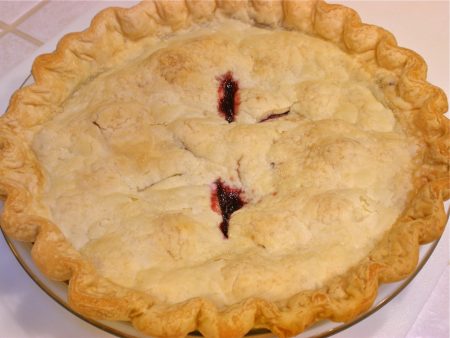 2 Pillsbury Pie Crust
4 cup Bing cherries, pitted
¾ cup Granulated Sugar
½ cup Cornstarch
1 teaspoon Almond Extract
1 teaspoon Vanilla Extract
1 tablespoon Butter, sliced
Place Bing cherries in medium sized bowl. Sprinkle with almond and vanilla extracts. Toss lightly.

Mix sugar and cornstarch together, then add to Bing cherries. Mix well, coating all the cherries with the sugar/cornstarch mixture.

Lightly spray a 9" pie plate with canola oil. Unroll Pillsbury pie crust and center one crust in pie plate letting the sides hang over.
Pour cherries into the pie plate, dot with butter, cover with top pie crust.
Roll edges of pie crust under pinching top and bottom crusts together.
Flute pie crust all the way around. Cut 4 slits into the top of crust, to let steam escape during baking.

Preheat oven to 375 degrees F. Cover pie crust with a pie ring, or shape a thin piece of aluminum foil around the outside of the pie to keep the crust from browning too much. Bake for 50 to 55 minutes or until pie is brown and bubbly.