Alice's Apple Goodie Dessert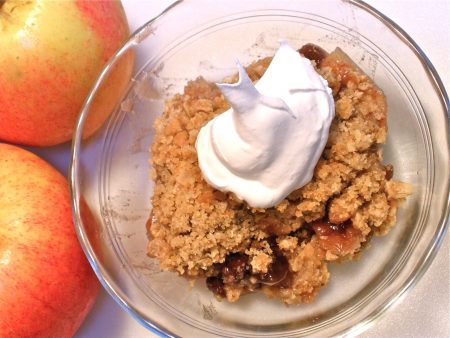 Author:
Nebraska Methodist Hospital Family Cookbook, copyright 1979
6 cup Apples, peeled and diced
1 cup Granulated Sugar
2 tablespoon All-purpose Flour
1 teaspoon Cinnamon
½ cup Walnuts, chopped
½ cup Raisins
½ cup Maple Syrup
1 cup Quick cooking oats, uncooked
1 cup All-purpose Flour
1 cup Brown Sugar, firmly packed
½ cup Butter or Margarine, melted
¼ teaspoon Baking Soda
½ teaspoon Baking Powder
½ cup Walnuts, chopped
Maple Syrup
Mix the first six ingredients together and put into a greased 9" x 13" baking dish. Pour ½ cup maple syrup over all the mixture.

Mix together the topping ingredients and spread over the apple mixture.
Top the mixture with several tablespoons of maple syrup sprinkled over the oats topping.
Preheat oven to 350 degrees F. Bake for 45 minutes or until nicely browned and bubbly all over.

(1) You can use any variety of apples from Winesap, Granny Smith, Fuji, Gala, Pink Lady or any combination.
Recipe by
Pray Cook Blog
at https://praycookblog.com/alices-apple-goodie-dessert/