Mom's Thanksgiving Cranberry Jello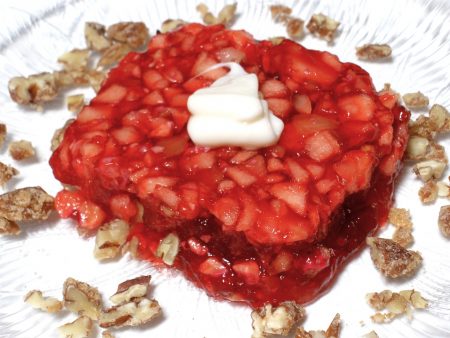 1 can Whole berry cranberry sauce
2 Raspberry Jello gelatin
2 cup Hot water
1 cup Cold water
2 medium Apples, peeled and finely chopped
½ cup Celery, finely chopped
½ cup Walnuts, fnely chopped
In a large bowl, dissolve the packages of jello in the hot water.
Add the cold water and the cranberry sauce. Blend well and chill.

Before mixture sets completely, add apples, celery and nuts. Mix well.

Pour into an 8"x12" pan or a jello mold.
Chill until it sets. Garnish with mayonnaise salad dressing.

(1)  Chop apples, walnuts and celery as finely as possible.
(2) Any apple works well -- Delicious, Granny Smith, Gala, Fuji - whatever you like!
(3) Original recipe calls for Black cherry flavored gelatin, but I prefer Raspberry jello.
Recipe by
Pray Cook Blog
at https://praycookblog.com/moms-thanksgiving-cranberry-jello-salad/