Fruit Cobbler For Dummies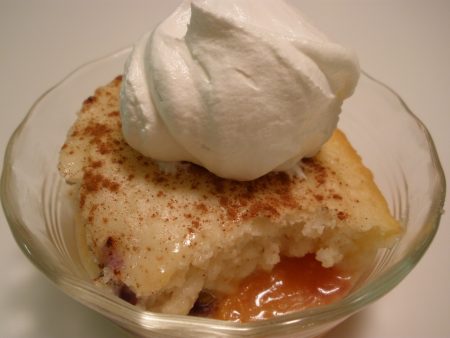 1 cube Butter
6 to 8 cup Peaches or Berries, Fresh or Frozen
1 cup Granulated Sugar
1 cup Self-Rising Flour
1 teaspoon Baking Powder
a pinch Salt
⅔ cup milk
Melt butter in a 9"x13" pan.

Add enough peaches, berries, or sliced fruit to cover the bottom of the baking dish. Sprinkle with extra sugar to taste based on the sweetness of the fruit being used.

In a separate bowl mix dry ingredients and add milk.
Pour mixture over the sweetened fruit.
Sprinkle lightly with cinnamon and sugar.

Bake at 350 degrees for approximately 35 minutes.
Serve warm with cool whip or ice cream!

I used peaches and frozen blueberries as shown in the picture.  The combination makes for a really tasty fruit cobbler.  I didn't add sugar to the fruit and it made for a slightly tart cobbler with a sweet topping.  Beautifully delicious!
Recipe by
Pray Cook Blog
at https://praycookblog.com/fruit-cobbler-for-dummies/