Brussels Sprout Slaw with Glazed Pecans In A Mustard Dressing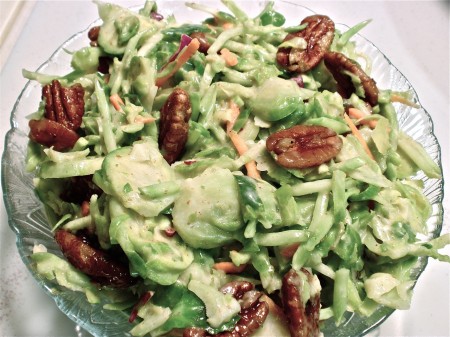 Author:
Adapted from Bon Appetit, Nov 2009
1 cup Pecan halves or pieces
½ teaspoon Kosher Salt
¼ cup Whole Grain Dijon Mustard
2 tablespoon Apple cider vinegar
2 tablespoon Lemon Juice
¼ teaspoon Ground black pepper
1 tablespoon Granulated Sugar
¼ cup Canola Oil
¼ cup Mayonnaise or Miracle Whip Salad Dressing
1 tablespoon Kosher Salt
1 lb Brussels Sprouts, trimmed
2 cup Broccoli straws
Preheat oven to 325 degrees F. Place a sheet of foil on a cookie sheet and spray lightly with nonstick spray. In a small bowl, whisk maple syrup, ½ teaspoon Kosher salt and ¼ teaspoon ground black pepper together. Add nuts. Mix well. Spread on foil lined cookie sheet. Bake nuts for 5 minutes. Toss and bake for another 6 minutes until nuts are toasted and glaze is bubbling. Cool completely. This step can be done up to 2 days ahead.

Whisk mustard, vinegar, lemon juice, sugar, and salad dressing in a small bowl; whisk in oil. Season with ½ teaspoon kosher salt and pepper. Set Aside.

Wash and trim Brussels sprouts.

Bring large pot of water to boil with 1 tablespoon kosher salt. Add Brussels sprouts. Cook until tender-crisp and still bright green, about 5 minutes. Drain, rinse in cold water. Cool on paper towels.

Using a food processor fitted with ⅛ to ¼" slicing disk, slice Brussels sprouts. (You can also use a sharp knife to slice thinly.) Transfer to bowl. DRESSING and Brussels sprouts can be made 1 day ahead. Cover separately; chill.

Toss Brussels sprouts and broccoli straws with dressing. Let marinate 30 to 60 minutes.

Mix in some pecans. Place slaw in a serving bowl. Top with remaining pecans.

1- Recipe adapted from Bon Appetit via Brown Eyed Baker, some changes made from original recipe.
2- Broccoli straws can be purchased in produce section or made by thinly cutting broccoli stalk into thin strips.
3- Salad dressing or mayonnaise sweetens the dressing just slightly making a perfect blend for the dressing.
Recipe by
Pray Cook Blog
at https://praycookblog.com/brussels-sprout-slaw-with-glazed-pecans-in-a-mustard-dressing/