What Have You Turkey and Rice Casserole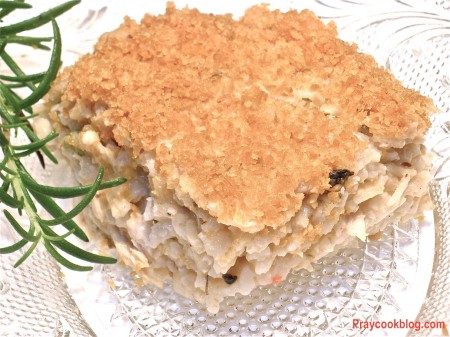 2 cup Rice
4 cup Water
3 cube Chicken Bouillon
1 teaspoon Parlsey, Dried
1 teaspoon Rosemary Garlic Seasoning
¼ cup Chopped Onion
½ cup Celery, finely chopped
½ cup Mushrooms, chopped
2 teaspoon Butter or Margarine
½ cup Ripe Olives, chopped
1 can Cream of Mushroom Soup
1 can Cream of Chicken Soup
1 can Cream of Chicken Soup
1 cup Sharp Cheddar Cheese, shredded
2 to 4 cup Cooked chicken or turkey, diced
1 cup Crushed Corn Flakes
Bring water to a boil, add bouillon cubes, Add rice and cook according to package directions. When all water is absorbed, pour rice into a large mixing bowl. Add diced turkey (or chicken).

Saute onions and celery until soft and translucent.

Mix all remaining ingredients into the rice and turkey/chicken mixture.
Spray a 9" x 13" baking dish. Add casserole mixture. Top with corn flake crumbs.

Preheat oven to 375 degrees F. Bake casserole until brown and bubbly, about 45 minutes to 1 hour. Serve immediately.

The "what you have" part of this recipe means you can use what you have on hand.  Optional tasty ingredients include chopped green chilies, diced jalapenos, broccoli, or pepper jack cheese just to name a few.
Recipe by
Pray Cook Blog
at https://praycookblog.com/what-have-you-turkey-and-rice-casserole/