Spinach and Chicken Asian Salad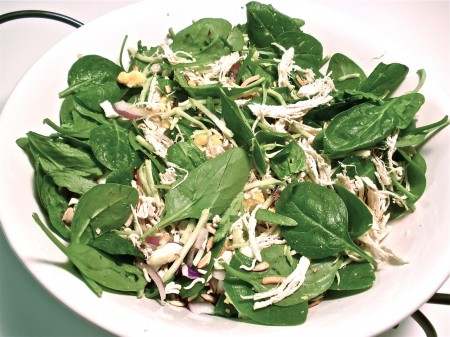 2 Chicken Breasts
2 Eggs, hardboiled
½ cup Red Onion, chopped
1 Package Top Ramen, Oriental Flavor
1 Bag Spinach leaves, ready to use
½ cup Almonds, Slivered or sliced
8 tablespoon Olive oil
3 tablespoon Sugar
¼ cup Rice Vinegar
4 tablespoon Soy Sauce
1 Seasoning packet from Oriental Top Ramen
Heat a medium pot of water to boiling, return water to simmer and add the chicken breasts. Cook for 20 minutes or until thoroughly cooked. Do not overcook or the chicken will become rubbery. Cool, and shred.
Crush Top Ramen noodles into small pieces, add almonds. In a small skillet over medium heat, brown. Watch carefully as they will turn quickly in about 5 minutes.

Chop Onions.

Chop Eggs.

Whisk dressing ingredients: olive oil, sugar, rice vinegar, soy sauce, and Top Ramen seasoning packet.

Place spinach in a large bowl, top with shredded chicken, onions, eggs, noodle/almond mixture. Toss with enough dressing to coat. Serve, passing remaining dressing separately.

1- Shredding the chicken can be done easily with two forks.  Just pull apart into tiny pieces.
Recipe by
Pray Cook Blog
at https://praycookblog.com/spinach-and-chicken-asian-salad/