Sugar Cookies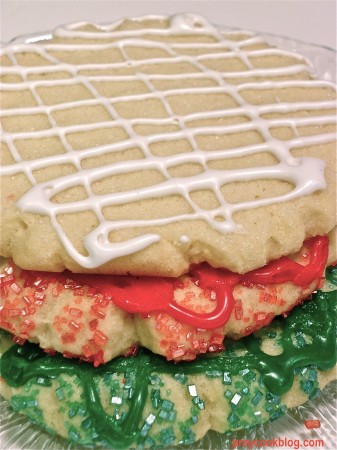 1 cup Granulated Sugar
1 cup Powdered Sugar
1 cup Butter or Margarine, softened
1 cup Vegetable oil
2 Eggs
1 teaspoon Vanilla Extract
4 cups and 4 tablespoons All-purpose Flour
1 teaspoon salt
1 teaspoon Baking Soda
1 teaspoon Cream of Tarter
Sugar, Colored sugar or Sprinkles
Cream sugars and butter; add oil and beat on high until light and fluffy.
Mix in eggs, one at a time. Add vanilla.
Mix all dry ingredients together and stir into the wet ingredients.

Use small scoop 1.5" diameter and roll into balls.
Drop balls into sugar and lightly coat.

Spray cookie sheet lightly with canola oil. Press ball down on cookie sheet to flatten slightly.

Bake at 375 degrees F. for 10 minutes. They will be light colored but done at 10 minutes. If you want them crispy and brown add another minute or two. They will flatten out some when they bake so make sure you leave enough room for them to spread slightly.

Frosting, optional. Makes about 4 dozen depending on the ball size.