Homemade Gingerbread Cookies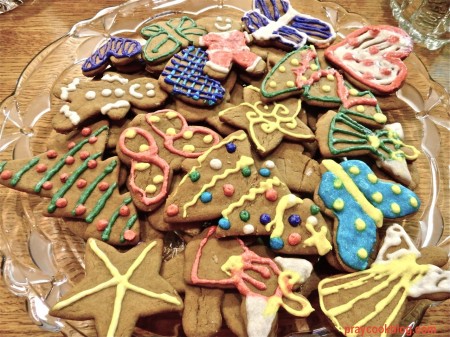 1 cup Shortening (Crisco or Coconut Oil)
1 cup Granulated Sugar
1 egg
1 cup Molasses
2 tablespoon Vinegar
1½ teaspoon Baking Soda
5 cup All-purpose Flour, sifted
½ teaspoon salt
2-3 teaspoon Ground Ginger
1 teaspoon Ground Cinnamon
1 teaspoon ground cloves
Cream shortening and sugar. Beat in egg, molasses, and vinegar.
Sift together dry ingredients and blend into the creamed mixture. Chill 3 hours.
Roll dough on lightly floured surface to ⅛" thick. Cut into shapes.
Place 1 inch apart on cookie sheet. Bake at 375 degrees F. for 5 to 6 minutes.
Cool slightly on cookie sheet and then remove to a rack.
Frosting optional.
Recipe by
Pray Cook Blog
at https://praycookblog.com/cookbook-giveaway-and-homemade-gingerbread-cookies/