Sweet and Pink Peppermint Krispie Treats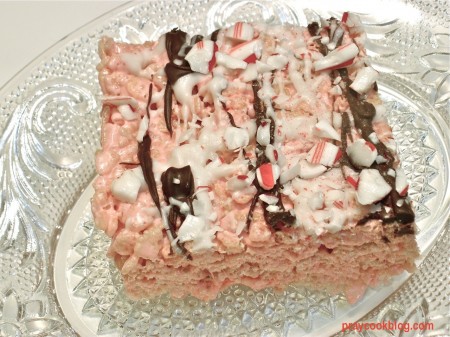 Author:
Adapted From Our Best Bites
40 Jumbo Peppermint Marshamallows
¼ cup Butter or Margarine
7½ cup Rice Krispie Cereal
3 Squares White Almond Bark
3 Squares Chocolate Almond Bark
3 Peppermint Candy Canes, crushed
⅛ teaspoon Peppermint Extract
Spray 9 x 13 pan lightly with canola oil or any cooking spray.

Melt butter or margarine in a large microwaveable bowl. Add marshmallows and stir to coat. Heat in 30 second intervals, stirring in between, until melted and smooth. This should only take about 90 seconds to 120 seconds total. Do not over heat.

Add rice krispie cereal and stir to evenly mix. With buttered hands, press mixture into prepared pan.

Melt white almond bark in one bowl and the chocolate almond bark in another. Melt in microwave for 30 to 60 seconds. Stirring until melted and no chunks remain. ** At this point peppermint extract can be added to the chocolate. Extract is optional.

Drizzle both the white and dark chocolate on top of the rice krispie treats, moving back and forth in a fluid motion. Sprinkle with crushed candy canes on top. Let sit until chocolate is set, cut in to squares. Get out of the way so you won't get hurt as your family and friends discover these treats!

I didn't add the peppermint extract.  I don't think it needs it because the marshmallows have such a great flavor, but you may add some if you wish.
Recipe by
Pray Cook Blog
at https://praycookblog.com/sweet-pink-peppermint-krispies/