Mom's Gourmet Caramel Corn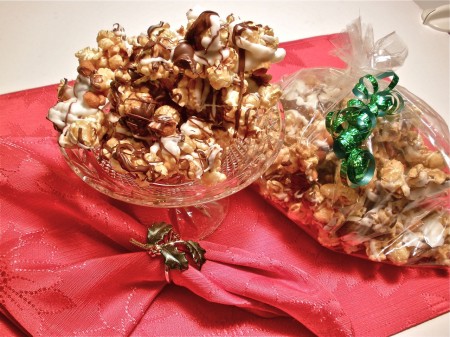 32 cup Popped Corn
2 cup Brown Sugar, firmly packed
2 Stick Margarine
1 cup White Corn Syrup
½ teaspoon Baking Soda
8 oz White Almond Bark
8 oz Chocolate Almond Bark
Pop corn and measure it out to 32 cups. Place in a container large enough for stirring the corn.
Over medium heat boil together the brown sugar, margarine, and syrup for 5 minutes. Add soda and stir well.

Pour mixture over the popped corn. Mix well and lay in a single layer on baking sheets.

Bake in a 250 degree oven for 1 hour, stirring the mixture every 15 minutes.

OPTIONAL: After taking the caramel corn from the oven, lay flat on foil and drizzle with melted white and chocolate almond bark. Let cool, break into chunks.

This corn is very, very good, with or without the chocolate drizzle!
Recipe by
Pray Cook Blog
at https://praycookblog.com/moms-gourmet-caramel-corn-the-gift-that-crunches/