Broccoli and Cheese Casserole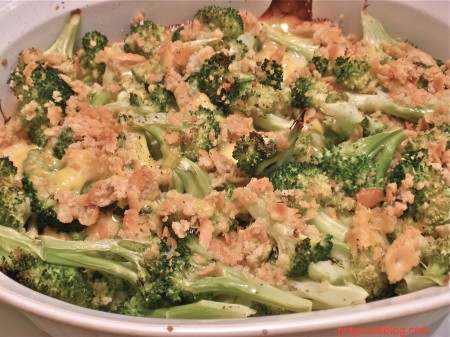 8 cup Fresh Broccoli, cut up in spears
8 oz Velveta Cheese, diced
1 Sleeve Ritz Crackers, crushed
½ cup butter, melted
¼ cup Butter, melted
Slice fresh broccoli into small spears. Place in microwavable bowl, add ¼ cup water, cover with plastic wrap and cook on high for 3 minutes.

Crush Ritz crackers and mix with ¼ cup melted butter.

Spread crumbs and butter on the bottom of a 1½ or 2 quart buttered casserole dish; cover with ½ of the diced cheese, followed by ½ of the broccoli and ½ of the crumbs. Add the remainder of the broccoli and cheese; top with remaining crumbs.

Bake at 375 degrees for 30 minutes.

2 packages (10 oz. each) of frozen chopped broccoli can be used instead of the fresh broccoli.  Cook according to package directions.
Recipe by
Pray Cook Blog
at https://praycookblog.com/colorful-christmas-vegetable-dishes/