Creamed Peas and Carrots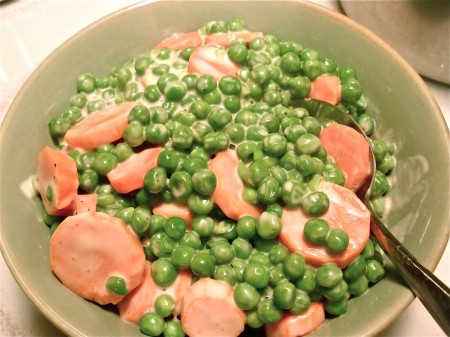 4 medium Carrots, sliced
2 cup Peas, frozen
1 tablespoon Cornstarch
¼ cup onion, diced
Salt and Pepper To Taste
½ cup Whipping Cream
Place 1 inch of water in a large saucepan; add the carrots. Bring to a boil, reduce heat and cover. Simmer for 10 minutes.
Add peas and onions, return to a boil. Reduce heat; cover and simmer for 5 to 10 minutes longer or until the vegetables are tender.
Drain vegetables, reserving ½ cup cooking liquid. Return the vegetables and reserved liquid to the pan. Combine cornstarch, salt, pepper, and cream until smooth. Stir into the vegetables. Bring to a boil, cook and stir for 1 to 2 minutes or until thickened.