Blueberry Orange Coffee Cake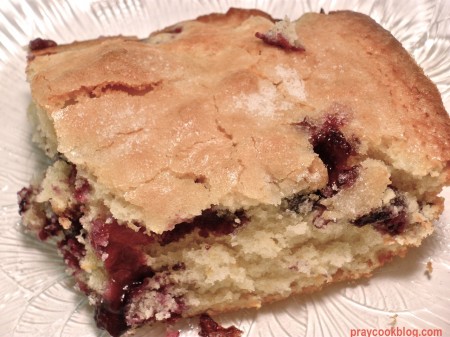 Author:
Adapted from Alexandra's Kitchen
½ cup Unsalted Butter, room temperature
2 teaspoon Orange zest**
1 cup Granulated Sugar
1 egg
1 teaspoon Vanilla Extract
2 cup All-purpose Flour
2 teaspoon Baking Powder
1 teaspoon Kosher Salt
2 cup Blueberries, Fresh or Frozen and thawed
½ cup Buttermilk
Preheat the oven to 350 degrees. Using a microplane zest a fresh orange.

Cream butter with orange zest and sugar until light and fluffy.

Add the egg and vanilla and beat until combined.

Toss the blueberries with ¼ cup of flour.

Whisk together the remaining flour, baking powder, and salt. Add the flour mixture to the batter a little at a time, alternating with the buttermilk. Fold in the blueberries.
Grease a 9" square baking pan (or something similar) with a non-stick spray. Spread batter into pan. Sprinkle batter with remaining tablespoon of sugar. Bake for 35 minutes. Check with a toothpick for doneness. If necessary, return pan to oven for a couple of more minutes. Bake for as long as 10 minutes more if necessary. Let cool at least 15 minutes before serving.

** Original recipe calls for lemon zest, but I have found the orange zest to be an exceptional combination with blueberries.
Recipe by
Pray Cook Blog
at https://praycookblog.com/blueberry-cream-coffee-cake-mornings-perfect-start/