Spinach, Roasted Pepper and Gruyere Quiche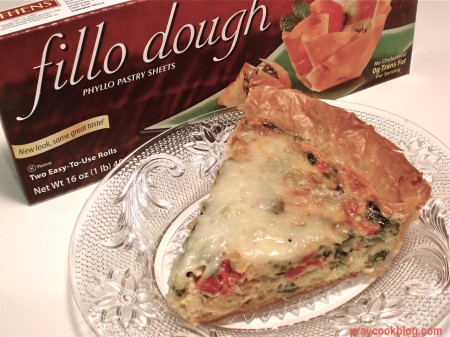 Author:
Adapted From Shabbottshabits
2 tablespoon Butter, melted
6 sheet Phyllo dough
2 tablespoon Olive oil
1 small white onion, chopped
4 cup fresh spinach, chopped
3 garlic cloves
7 large eggs
¼ cup milk
¾ cup roasted red pepper, chopped
1 cup Gruyere Cheese, shredded
½ teaspoon Kosher Salt
¼ teaspoon Fresh pepper
Prepare the phyllo dough crust.
* Gently place one piece of phyllo dough in a 9-inch pie plate. Push down gently so that the crust conforms to the plate. (Some will hang over the edges)
* Lightly brush the dough with melted butter
*Repeat six times
* Using kitchen shears, cut off the excess phyllo dough, leaving about 1-inch excess outside the edge of the pie plate
* Brush the 1-inch edge with melted butter. Fold down and under the 1-inch edge so that no phyllo dough is hanging over.


Saute the chopped onion in the olive oil until translucent. Add the spinach and garlic cloves to the pan and cook until the spinach is slightly wilted. Remove from the heat.
Combine the eggs, milk, salt, and pepper. Whisk together for about one minute. Add the chopped pepper, ¾ cup of the Gruyere and the spinach mixture to the egg mixture. Mix until just combined.

Pour the egg mixture into the phyllo crust. Place pie ring around the crust, if you have one. Bake at 375 degrees F. for about 35 minutes.

Top with remaining ¼ cup Gruyere Cheese and bake an additional 10 minutes or until the eggs are cooked to your liking and the phyllo is lightly browned.

Let the quiche rest for 10 minutes before serving.

(1) I like my eggs well-down and 45 minutes total baking time will do that.  If you prefer more medium, use slightly less baking time.

 
Recipe by
Pray Cook Blog
at https://praycookblog.com/spinach-roasted-red-pepper-and-gruyere-quiche/