Grapefruit Pie from Lang Sun Country Groves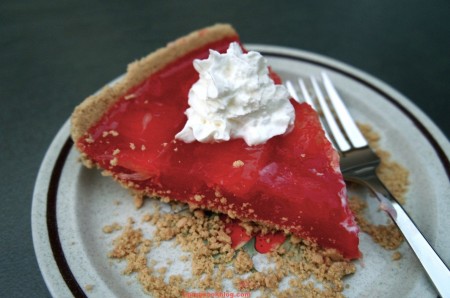 Author:
Lang Sun Country Groves, Lake Alfred, Florida
9 Graham Crackers
2 tablespoon Granulated Sugar
5 tablespoon Unsalted Butter, melted
¼ teaspoon salt
1 cup Granulated Sugar
3 tablespoon Cornstarch
1 box (3 ounce) Strawberry Flavored Jell-O
2 or 3 medium Grapefruit
¾ cup Chilled Heavy Cream
2 tablespoon Granulated Sugar
Make Crust: Preheat oven to350 degree F. Butter a 9-inch pie plate.

In a food processor, grind graham crackers into crumbs, about 1 minute. Add sugar, butter, and salt and pulse motor until mixture becomes fine crumbs. Press mixture evenly onto bottom and up sides of pie plate. Bake in middle of oven until golden brown. About 10 minutes. Cool crust in pan on rack.

**If using an already prepared graham cracker crust, no need to bake.
Make Filling: In 2-quart saucepan, whisk together sugar, cornstarch, and 1½ cups water. Set over moderate heat and simmer, whisking constantly until mixture becomes thick and clear, about 6 to 7 minutes.

Add Jell-O to the sugar mixture and whisk until dissolved, about 1 minute. Remove from heat and let cool to room temperature.

Using sharp knife, cut peel, including all white pith, from grapefruit and cut segments from membranes. Add segments to filling. Then pour into crust and chill until firm, at least 3 hours and up to 24 hours.

To serve: in a medium bowl, using electric mixer, beat cream with sugar until it holds soft peaks. Serve on to of pie.

(1)  If your grapefruit is sour, sprinkle a little sugar over the fruit before adding to the strawberry filling.
Recipe by
Pray Cook Blog
at https://praycookblog.com/grapefruit-pie-or-strawberry-banana-pie-your-choice/