Fresh Strawberry Banana Pie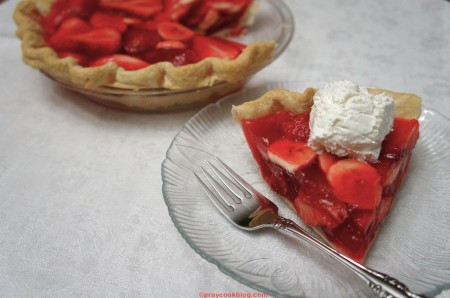 1 Pillsbury Refrigerated Pie Crusts
½ cup Granulated Sugar
3 tablespoon Cornstarch
1 box (3 ounce) Strawberry-Banana Flavored Jell-O
6 to 8 Fresh Strawberries, wash and sliced
2 small Bananas
Whipped Cream for serving
Prepare pie crust and place in a 9" pie plate. Poke fork holes throughout pie crust. Bake 425 degrees F. for 10 to 12 minutes until nicely browned.

In a 2-quart saucepan, whisk together sugar, cornstarch, and 1½ cups water. Set over moderate heat and simmer, whisking constantly until mixture becomes thick and clear, about 6 to 7 minutes.

Sprinkle sugar-free Jell-O into sugar mixture and whisk until dissolved, about 1 minute. Remove from heat and let cool to room temperature.

Slice strawberries and bananas and layer into baked pie crust.

Gently pour strawberry Jell-O mixture over fruit making sure to cover all fruit in order to lightly glaze.

Chill until firm, at least 3 hours or up to 24 hours. Serve with a dollop of whipped cream!

Recipe by
Pray Cook Blog
at https://praycookblog.com/grapefruit-pie-or-strawberry-banana-pie-your-choice/