Roasted Red Pepper and Asiago Cheese Spread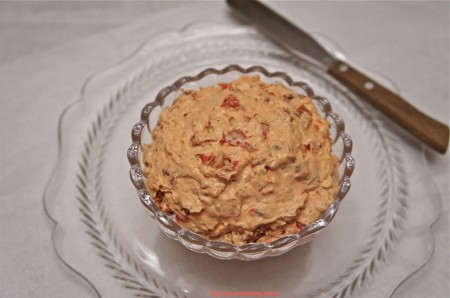 1 package cream cheese, softened
½ cup Asiago Cheese, finely shredded
2 garlic cloves, finely chopped
1 cup Roasted red peppers, drained and chopped
½ cup Mayonnaise or Miracle Whip Salad Dressing
In a food processor combine cream cheese, Asiago cheese, and garlic. Cover and process until mixture is well combined.
Add drained roasted red peppers and mayonnaise. Cover and process with on/off turns until the peppers are chopped and all ingredients are well mixed.
At this point the spread can be used on sandwiches or as a dip. If desired, you may transfer to an 8-inch dish or pie plate and either microwave on 70% power for 5 minutes or bake in a 350 degree F. oven for 20 minutes.

Recipe by
Pray Cook Blog
at https://praycookblog.com/roasted-red-pepper-and-asiago-cheese-spread/