Cream of Maitake Mushroom Soup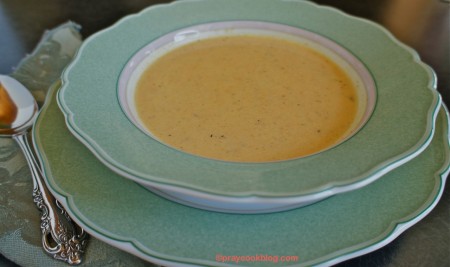 Author:
The Mushroom Forager
2 lb Hen of the Woods (Maitake) Mushroom
6 cup Vegetable or chicken broth
1 lb Potatoes, chopped
1 lb Carrots, chopped
1 Onion, chopped
8 clove Garlic, minced
2 Bay Leaves
1 teaspoon Thyme, minced
1 teaspoon Sage, minced
1 cup White Wine
1 cup Heavy Cream **
2 tablespoon Olive Oil
2 tablespoon Butter
2 tablespoon Lemon Juice
1½ teaspoon Salt
½ teaspoon Cracked Pepper
Thoroughly clean the mushrooms. Dry and then break apart into small pieces.
Place a heavy soup pot over a medium-high heat, then add the olive oil and butter. Once the butter has melted, add the garlic and onion. Saute' for about three to five minutes, and then add the hen of the woods to the pot, as well as the salt and pepper. Stir and cook over a medium to high heat for about 10 minutes. Add the carrots and potatoes and saute' for another five minutes or so, stirring often.
Add the stock, bay leaves, thyme, and sage to the pot and bring to a boil. Reduce heat and simmer for 25 to 30 minutes.
Remove the bay leaves and cool down the soup slightly. Add to blender in small batches and puree until smooth. Add back into the soup pot, add the wine and lemon juice and simmer for another five minutes. At this point the soup can be refrigerated and warmed for later use. Or, if you plan to serve immediately stir in the cream and salt and pepper to taste. Garnish with your favorite herbs, and serve hot!
(1) Eight ounces of tofu blended in a little bit of the broth can be substituted for the heavy cream. The taste and texture will not suffer at all!
(2) If you don't have 2 lbs of mushrooms, use whatever you have and the soup will still be great.
(3) Ingredients can be cut in half with no problem.
Recipe by
Pray Cook Blog
at https://praycookblog.com/hen-of-the-woods-cream-of-maitake-mushroom-soup/