Multigrain Buttermilk Pancakes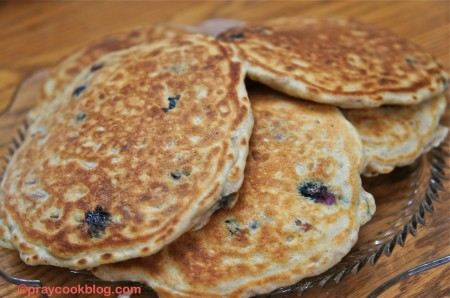 1 cup All-purpose Flour
½ cup Whole Wheat Flour
¼ cup Cornmeal
¼ cup Oatmeal
1 teaspoon Wheat Gern
1 teaspoon Baking Powder
½ teaspoon Baking Soda
¼ teaspoon Salt
1 teaspoon Sugar
1 Egg
1¼ cup Buttermilk
¼ teaspoon Pure Vanilla Extract
1 cup Blueberries, Fresh or Frozen and thawed
½ cup Finely Chopped Pecans
1 tablespoon Vegetable oil
Mix together all dry ingredients in a medium bowl.
In a second bowl, combine Buttermilk, Egg, Vegetable oil and vanilla, whipping them enough to beat the egg. Add these to the dry ingredients, stirring just to combine them. ** Do not over stir.
Add pecans and blueberries, stirring in softly. At this point the batter can stand for 10 minutes out of the refrigerator or for an hour or more refrigerated.
Heat griddle over medium heat. Grease it lightly if not nonstick and immediately pour ¼ cup batter (or more) to make the pancakes the size you would like. Don't let them get too big or they will be hard to flip. Try to leave space between the pancakes to keep them from sticking together.
Cook pancakes until the tops are bubbly and the bottoms golden brown. Flip cakes and cook another couple minutes to brown the bottom.
Serve immediately with butter and warm syrup.
(1) Buckwheat flour can be substituted for the cornmeal, wheat flour, or oats.
(2) Whole Milk or 2% Milk with 1 tablespoon vinegar can be substituted for the buttermilk.
Recipe by
Pray Cook Blog
at https://praycookblog.com/multigrain-blueberry-pancakes/