Chocolate Chip Mousse Cupcakes with Kahlua Cream Frosting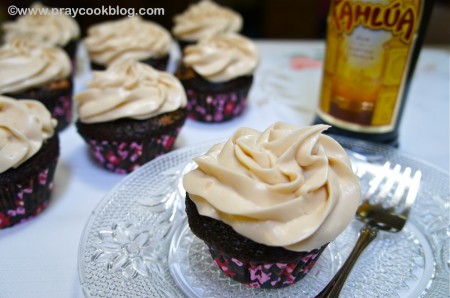 Author:
Adapted From Cookstr.com
1½ cup All-Purpose Flour
¾ cup Unsweetened Cocoa Powder
1 teaspoon Baking Soda
1 teaspoon Baking Powder
¼ teaspoon Salt
2 large Eggs
1¾ cup Granulated Sugar
½ cup Canola Oil
1 teaspoon Pure Vanilla Extract
1¼ cup Strong Brewed Coffee
½ cup Mini Milk Chocolate Chips
16 oz Cream Cheese, room temperature
½ cup Butter, room temperature
7 tablespoon Kahlua
6 cup Powdered Sugar
⅓ cup Semisweet Chocolate Chips
1 tablespoon Strong Brewed Coffee
¾ cup Heavy Whipping Cream
1 tablespoon Confectioners Sugar
In a medium bowl, sift together flour, cocoa powder, baking soda, baking powder, and salt.

In a large bowl, using electric mixer, beat eggs, sugar, oil, and vanilla until creamy. Add flour mixture beating just until combined. Beat in coffee until smooth. Do not overbeat. Stir in mini chips.

Fill 18 prepared muffin cups with ⅓ cup batter each.

Bake in preheated 350 degree F. oven for 22 to 24 minutes, until cupcakes are just firm to the touch and a tester inserted into center of cupcake comes out clean. Let cool in pans on racks for 10 minutes. Remove from pans and let cool completely on racks.

In a large bowl, using electric mixer, whip cream and confectioner's sugar until almost stiff peaks. Add melted chocolate mixture, beating just until incorporated. Finish mixing by hand with a rubber spatula. Using a sharp paring knife, or a cupcake corer, gently cut a ¾-inch core from the top or bottom of each cupcake.

Gently remove the center.

Using a small spoon, fill each hole with chocolate cream filling and replace reserved cones. Place on prepared baking sheet and refrigerate while preparing glaze.

In a mixing bowl, blend together the cream cheese, butter, and Kahlua on medium speed until completely smooth and combined. Gradually add the powdered sugar on medium-low speed until it has all been added. Increase speed to medium-high and beat until the frosting is smooth and thoroughly mixed. Pipe frosting onto cupcakes.

Recipe by
Pray Cook Blog
at https://praycookblog.com/chocolate-chip-mousse-cupcakes-with-kahlua-cream-frosting/