Chicken Enchilada Casserole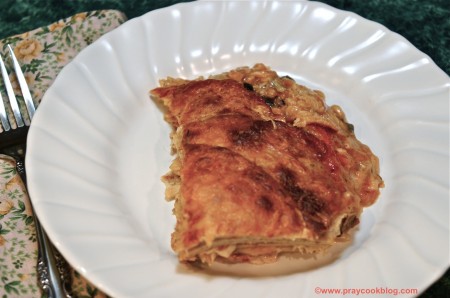 8 Flour Tortillas
1 can Enchilada Sauce
8-12 oz Mexican Style Shredded Cheese
¼ cup Diced Black Olives
½ cup Diced Fresh Onion
2 large Chicken Breasts
1 cup Salsa
Place approximately 1 cup salsa in the bottom of the crock pot. Add 2 chickens breasts and cook 4 to 6 hours on low. Shred chicken after about 4 hours, mixing well with the salsa. Continue to cook, adding water or chicken stock if the chicken gets dry. When cooked shred and set aside for casserole.

Pour Enchilada sauce onto a large plate. Dip tortilla on both sides and place in the bottom of a greased baking dish. Dish can be round, square or oblong. A 9" round or 8"x8" square pan or even an 8" x 11" pan works fine. Just cut tortilla to fit if necessary.

Layer sauced tortilla, sprinkle with chicken, black olives, finely chopped onion and cheese. Continue to layer until the baking dish is nearly full or all ingredients used up!

Finish casserole with remainder of the cheese. Bake at 350 degree F. for 30 to 45 minutes until casserole is browned and bubbling all over.

Recipe by
Pray Cook Blog
at https://praycookblog.com/chicken-enchilada-casserole/