Strawberry Banana Parfait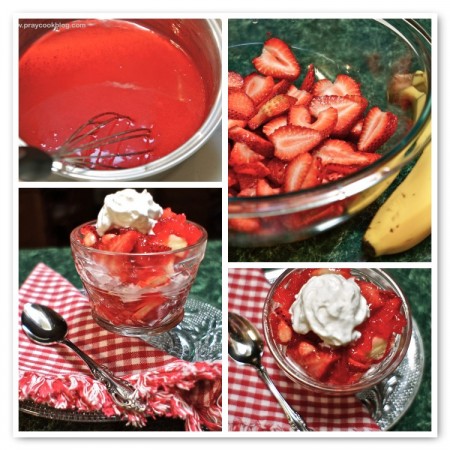 3 tablespoon Cornstarch
1½ cup Water
½ cup Granulated Sugar
1 box Strawberry-Banana Flavored Jell-O
6 to 8 large Fresh Strawberries, wash and sliced
2 large Bananas
¼ cup Fresh Lemon Juice
Whipped Cream for serving
Wash strawberries and slice. Cut bananas and coat in lemon juice.

In a 2-quart saucepan, whisk together sugar, cornstarch, and 1½ cups water. Set over moderate heat and simmer, whisking constantly until mixture becomes thick and clear, about 6 to 7 minutes.

Carefully and slowly stir in the jello. Continue to cook and stir until jello is dissolved and the filling is thick. Once thick, remove from heat and set aside.

Starting with whipped cream, layer strawberries, bananas and filling. Add a whipped cream layer. Continue to layer until serving cup is full.

Refrigerate for 30 minutes to a couple hours. Serve with dollop of whipped cream.

Recipe by
Pray Cook Blog
at https://praycookblog.com/strawberry-banana-parfait/