Sour Cream Coconut Cupcakes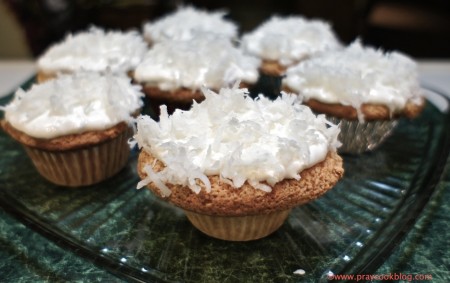 1 Ducan Hines Yellow Butter Cake Mix
16 oz Sour Cream
2 cup Granulated Sugar
2 Packages Frozen Coconut
8 ounces Cool Whip
½ cup Flaked Coconut
Mix cake mix according to directions on the package. Pour into 18 to 24 cupcake holders (depending on size). Fill ⅔ fill. Bake according to package directions.
Cool cupcakes on wire rack.
In a medium size bowl, mix together sour cream, sugar and thawed coconut.

Core cooled cupcakes by taking small plug out of the center from the top.

Fill cupcake with sourcream mixture. This may take as little as 1 teaspoon or as much as a tablespoon depending on the size of the core you removed.

When all cupcakes are filled in the middle, mix remaining sour cream mixture with cool whip. Frost cupcakes with this mixture. Sprinkle with flake coconut and seal up in an airtight container. i.e. Tupperware, or plastic wrap. Can store up to 7 days in the refrigerator.
Serve and enjoy!

These are "make ahead" cupcakes.  I believe the ideal time for moistness and flavor is 5 to 6 days in advance, although it will keep up to 7 or 8 days in the refrigerator.
Recipe by
Pray Cook Blog
at https://praycookblog.com/sour-cream-coconut-cupcakes/