Baked Parmesan Asparagus "Fries" with Lemon-Garlic Aioli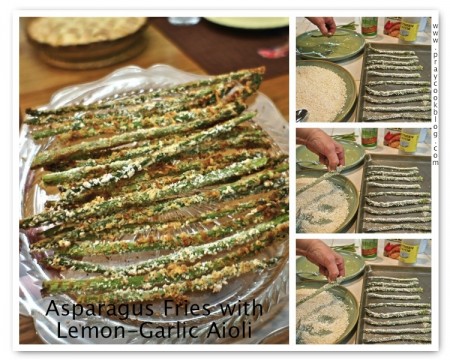 Author:
Adapted From Simply Scratch
1 bunch Asparagus, washed and trimmed
2 Egg Whites, beaten slightly
¾ cup Panko Bread Crumbs
¼ cup All-purpose Flour
¼ cup Parmesan cheese, finely grated or shredded
Salt and Pepper To Taste
2 Egg Yolks
1 Whole Egg
1 teaspoon Brown Mustard
2 teaspoon Fresh Lemon Juice
1 cup Grapeseed Oil
½ teaspoon Kosher Salt
½ teaspoon Fresh Cracked Black Pepper
2 clove Garlic, smashed and roughly chopped
2 tablespoon Additional Fresh Lemon Juice
1 teaspoon Your favorite seasoning
Preheat oven to 425 degrees F. Line a baking sheet with parchment paper or brush lightly with oil
Separate the egg yolks from the whites and gently whisk the whites. Place on large plate with a little lip or a pie plate. (Reserve yolks for the Aioli sauce.) In a medium bowl mix together Panko, flour, finely grated Parmesan, and a pinch of salt and pepper. Stir. Pour onto a plate large enough to individually roll the spears.
Roll asparagus in egg whites, drain off any excess.

Then roll in Panko mixture to coat.

Place on prepared pan and repeat with remaining asparagus.
Bake in preheated oven for 15 to 20 minutes turning the asparagus half way through. Continue to bake until the outside is lightly golden. Let cool a few minutes before serving. Do not overbake. They are best when the asparagus is tender-crisp.

Enjoy!

In a food processor add the egg yolks, whole egg, brown mustard and two teaspoons of lemon juice. Place the top on the processor and turn on high. Slowly stream in the grapeseed oil while the processor is running. This will take a few minutes, so don't rush it. The end result will be home made mayonnaise!

To make this mayo an aioli, remove the top of the processor, add the remaining lemon juice, the chopped garlic and season with kosher salt and black pepper. Blend until smooth. For the best tasting mayo, store in an air-tight glass jar and refrigerate over night.

Additional seasoning is optional.
Recipe by
Pray Cook Blog
at https://praycookblog.com/baked-parmesan-asparagus-fries-lemon-garlic-aioli/