Cheesey Hashbrown Casserole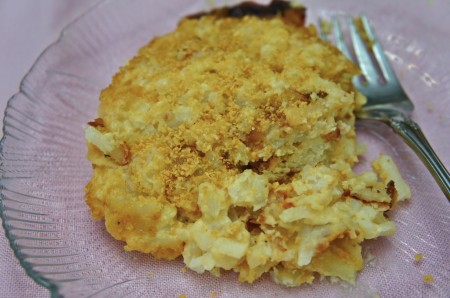 2 lb Frozen hasbrown potatoes
2 can Cream of Chicken Soup
12 oz Sour Cream
2 cup Grated Sharp Cheddar Cheese
¼ cup Butter, melted
½ small Onion, chopped
1 cup Crushed Corn Flakes
½ cup Pepperjack Cheese, shredded
Chop onion and add to melted butter. Saute' in the microwave for 1 to 2 minutes on high.
Thaw frozen hashbrowns. In a large bowl, while potatoes are still cold, mix all ingredients except the corn flakes.
Grease 9"x13" baking pan. Add mixture to pan and smooth lightly. Cover with a light dusting of crushed corn flakes. At this point the potatoes can be refrigerated for up to 24 hours before baking. When ready to bake, remove from refrigerator for 30 minutes or so. Bake at 350 degrees F. for 1 hour until nicely browned and bubbly.
*  Pepperjack cheese adds a little bit of heat and blends well with the sharp cheddar, but it is optional.  This dish is great with or without the pepperjack.

** Make sure frozen potatoes are thawed, but still cold when mixing them up.
Recipe by
Pray Cook Blog
at https://praycookblog.com/cheesey-hasbrown-potatoes/