Wilted Spinach, Blackberry and Goat Cheese Salad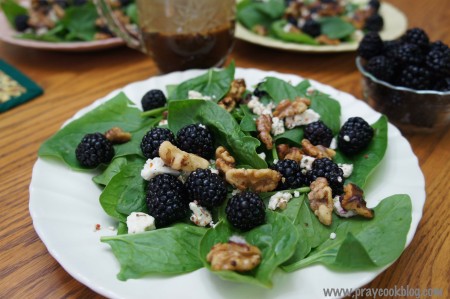 Author:
Tennessee Home & Farm
4 cup Fresh, Washed Spinach
2 cup Ripe Blackberries, Washed
4 oz Goat Cheese
½ cup Walnuts, toasted
⅓ cup Extra-virgin olive oil
¼ cup Balsamic Vinegar
2 tablespoon Honey
½ teaspoon Ground Cumin
⅛ teaspoon Ground Cayenne Pepper
Salt and Pepper To Taste
Over medium-high heat roast walnuts in 1 teaspoon of butter. When walnuts are nicely browned add 1 teaspoon of sugar, stirring well. Remove and cool.

Divide the spinach, berries, and cheese onto four plates.

Combine all dressing ingredients in a glass jar and stir. Also can be mixed in blender or processor.
Microwave dressing for about 1 minute on high. Stir well.

Pour warm dressing evenly over the salads. (The spinach will wilt when covered in the warm vinaigrette.) Sprinkle with walnuts, serve immediately.

Recipe by
Pray Cook Blog
at https://praycookblog.com/wilted-spinach-blackberry-and-goat-cheese-salad/