Chicken and Spinach Penne Salad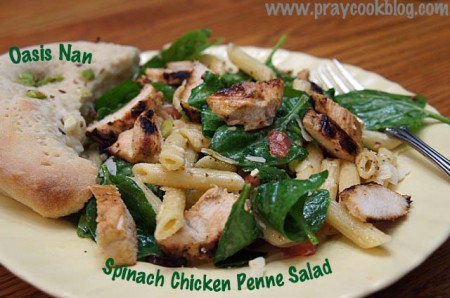 Author:
Taste of Home, June/July 2012
1 Package Uncooked Whole Wheat Penne Pasta
1 Package Fresh baby spinach
3 medium Tomatoes, seeded and chopped
¾ cup Crumbled Feta Cheese
4 Green onions, thinly sliced
½ cup Sliced Greek Olives
1 cup Extra-virgin olive oil
1 cup White wine vinegar
⅔ cup Grated Parmesan Cheese
2 tablespoon Dijon mustard
3 clove Garlic, minced
2 teaspoon Dried Oregano
½ teaspoon Salt
½ teaspoon Pepper
1 Pound Chicken Breast Tenderloins
2-3 hours before serving time: In a small bowl or food processor, mix together the vinaigrette ingredients. Place chicken tenderloins and half the vinaigrette in a ziploc bag and place in refrigerator to marinate for a couple hours. Place remaining vinaigrette in the refrigerator.

30 to 45 minutes before serving: Cook pasta in a large pot according to package directions. Drain and rinse in cold water.

Cook chicken tenderloins in a tablespoon of olive oil. I prefer to cook in a cast iron skillet on the BBQ grill adding additional flavor to the meat.

In a large bowl, combine the cooked pasta, washed spinach, tomatoes, feta cheese onions and olives. Add vinaigrette; toss to coat. Top with sliced chicken. Serve immediately.

I like to use flavored feta cheese, particularly the Tomato and Basil.
Recipe by
Pray Cook Blog
at https://praycookblog.com/chicken-and-spinach-penne-salad/