The Sweet and Salty Chocolate Chip Cookie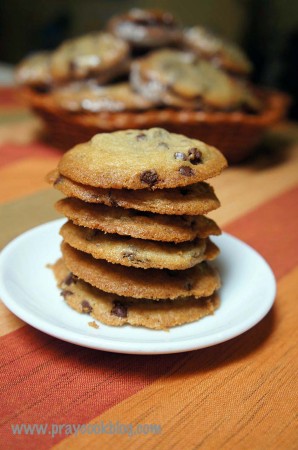 Author:
Adapted From The Brown Eyed Baker
2¼ cup All-purpose Flour
1 teaspoon Baking Soda
1 teaspoon Salt
½ cup Unsalted butter
½ cup Coconut Oil
¾ cup Granulated Sugar
¾ cup Light Brown Sugar, packed
1 tablespoon Vanilla Extract
2 large Eggs, at room temperature
1 tablespoon Milk
2 cup Semisweet Chocolate Chips
1 cup Walnuts or pecans, chopped
Coarse Kosher Salt
Preheat oven to 375 degrees F.
Microwave butter and coconut oil for 30 seconds, stir and set aside. Don't worry if it isn't completely melted.
Combine flour, baking soda, and salt in small bowl and set aside.
Beat butter/coconut oil mixture, granulated sugar, brown sugar, and vanilla on medium-high speed until creamy. Add eggs, one at a time, beating well after each addition. Add milk and beat until combined. Gradually beat in flour mixture, beating just until combined. Do NOT over mix. Stir in chocolate chips and nuts (if you are adding them.)
Refrigerate dough for 15 to 30 minutes. This is an important step as it will solidify the oils keeping the cookies from spreading out too much while baking.
Drop by rounded spoonful (I used the small Pampered Chef scoop) onto ungreased cookie sheets. Sprinkle lightly with coarse salt. Bake for 12 minutes or until edges are just brown and the middle is not quite set. Cool on pan for 2 minutes and then transfer to a cooling rack.
Make sure cookie sheet is completely cooled before adding more dough to bake. Cookie sheets can be placed in the freezer for 5 minutes or so to cool quickly.
When cooled completely wrap individually or in an airtight container. Recipe yields about 3½ dozen cookies.

I used half butter and half coconut oil, but all butter can be used.
Recipe by
Pray Cook Blog
at https://praycookblog.com/not-all-chocolate-chip-cookies-are-created-sweet-and-salty/