Bleu Cheese Bacon Slaw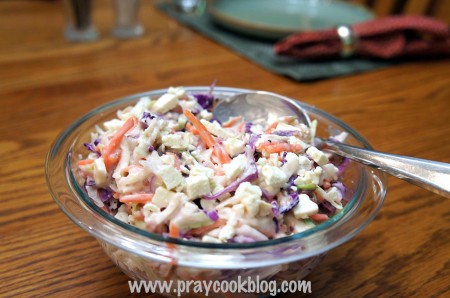 Author:
Tennesse Magazine
1 head Shredded Cabbage
1 cup Shredded Carrots
¼ head Red Cabbage, shredded
1 cup Crumbled Blue Cheese
8 Bacon slices, cooked and crumbled
¾ cup Mayonnaise or Miracle Whip Salad Dressing
2 tablespoon Red Wine Vinegar
1 tablespoon Honey
¼ teaspoon Salt
⅛ teaspoon Black Pepper
In a large bowl, toss together the cabbage, red cabbage, and carrots, (or coleslaw mix,) cheese and bacon.
In a separate bowl, whisk together the mayo, vinegar, honey, salt, and pepper. Gently toss over the coleslaw mixture. Cover and refrigerate at least 30 minutes before serving.