Cherry or Blackberry Clafoutis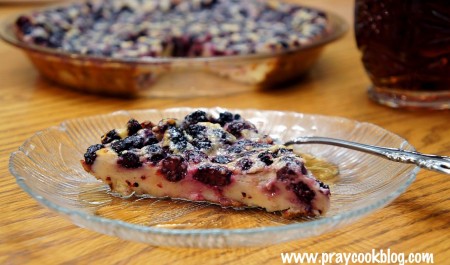 2 cup Fruit
1 cup Milk
2 tablespoon Unsalted Butter
3 large Eggs
¼ cup Sugar
½ teaspoon Kosher Salt
¾ cup All-purpose Flour
Powdered Sugar
Heat milk and butter on low heat until incorporated and just warm. Beat eggs, add sugar, flour, salt, and blend into the milk/butter mixture.

Using nonstick spray, coat a 9" or 10" pie pan. Sprinkle with extra sugar. Place fruit in the bottom of the dish.

Pour batter over fruit to the rim of the pie pan.

Bake at 375 degrees F. for 35 to 45 minutes, until dessert is set.

Remove from oven and dust with powdered sugar.

(1)  When served for brunch drizzle with maple syrup.

(2) While Cherries are the traditional fruit in this dish, blackberries, strawberries, blueberries, peaches and other fruits can be substituted for the cherries.
Recipe by
Pray Cook Blog
at https://praycookblog.com/clafoutis-cherry-or-blackberry-a-shared-recipe/