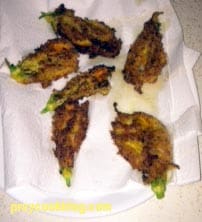 And they say "in the South they fry just about anything …"  Well, I beg your pardon, but my fry pan is 1200 miles away from my friend Sue in Alliance, Nebraska when she asked if I have any zucchini.  First, you must know that zucchini, Sue and I, go waaaayyy back to the time she convinced me to spend a day making faux crushed pineapple from none other than zucchini!  AND THEN canning the dumb stuff.  I mean really, how much faux crushed pineapple can a person use in say … a lifetime!
So when curiously creative Sue called and said, "Got zucchini?" I am all over skeptical.   She laughed and said, "No, no, this isn't like the crushed pineapple made from zucchini" … "this is something really awesome!"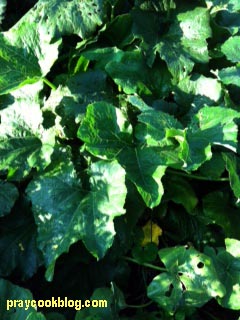 As luck would have it – I don't happen to have any zucchini.  But that didn't stop Sue from enthusiastically telling me about a recipe she heard on NPR a week back.  It certainly isn't about frying zucchini, that would be old news.  No, it is about frying zucchini – FLOWERS!  Okay, now I am listening.

Sue had listened to NPR when someone shared a recipe for fried zucchini flowers.  Sue, being a fantastic adventurous cook, never afraid to try something new, wrote down the recipe, went to the garden, popped off a bunch of zucchini flowers and the rest is culinary history.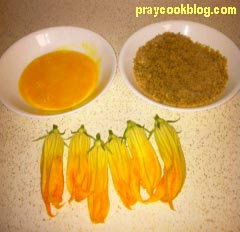 Realizing I don't have any zucchini, flowers or otherwise, Sue took pity on me and my blog and did the work for me.  She prepared the set up — zucchini flowers, including stems, whisked egg, Panko bread crumbs (flavored or non), a bit of canola oil, and some salt for seasoning.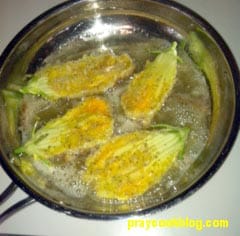 She dipped the little beauties in the egg, then Panko breadcrumbs and then fried them very quickly in hot canola oil.
I don't want you to think that I doubt Sue's culinary expertise or her  refined palate, but thanks to GOOGLE I learned that in Italy, fried zucchini blossoms are the jalapeño poppers of the jet set. Crunchy, salty, and utterly addictive, they go perfectly with an aperitivo, from a Bellini to a Negroni.  (Italian drinks — I had to look it up too!)  Even Tyler Florence on The Food Network categorizes them as "comfort food."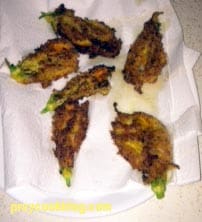 I'm told these light, crisp, tasty treats won't last long and will disappear from the serving plate faster than you can say ZUCCHINI WHAT?
Please, please, please — if you have zucchini flowers, give these a try.  Sue says they are absolutely delicious, addictive, and she can't wait to make them again! Thank you Sue for sharing!
And, as we say down South, "Praise The Lord and pass the zucchini flowers!"
What is the strangest thing you have ever fried and eaten?
Blessings, Catherine
P.S.  The woman on NPR said you can also use bread crumbs but use only zucchini blossoms. She said other squash blossoms are bitter.
Fried Zucchini Flowers
Ingredients
Vegetable oil, for frying
2 large eggs, lightly beaten
1 cup PANKO bread crumbs
12 zucchini flowers with stems
Kosher salt and freshly ground black pepper
Instructions
Pour 3 inches of oil in a deep fryer or ¼" in a flat fry pan and heat to 375 degrees F.
In a deep mixing bowl, lightly beat the eggs.
Add Panko bread crumbs to a medium size bowl.
Dip zucchini flowers one at a time into beaten eggs, dip into Panko crumbs and place into hot oil.
Fry the flowers in the hot oil for 2 minutes until crisp and golden brown.
Drain the fried flowers on a platter lined with paper towels, season with salt and pepper while they are still hot. Repeat with the remaining zucchini flowers.
 From a shared review on The Food Network:
Make sure the flowers are closed up when you pick them.  It is best to pick them later in the day, close to sunset when bees are less active. I grow my own and there's nothing on God's green earth more delicate. Remember, if you are harvesting these, choose from those already fallen from the plant or appear ready to fall off. The flowers generally bloom only one day. **Note,If you pick them before they pollinate, you will get little to no zucchini. The flowers with the small zucchini at the base are female plants; those without the zucchini are male flowers. Both male and female must open to pollinate and produce fruit. If not pollinated, the small zucchini attached with the flower will shrivel up. Pick some of the male flowers over the females, and your crop should produce more than you can probably eat in a season.