Over the new year's holiday, we traveled to Missouri to spend time with our nephew, Richard.   We were invited to spend New Year's Eve with friends Robert and Susan.  Robert's parents Bob and Sue joined the party as well as my sous-chef dish-washing mom and Robert's son Nathan.
 We had lots of fun, food, and laughs.  Starting with an array of appetizers, Robert treated us to his $40 Lasagna.  It is a recipe he has perfected over the years and after one bite I knew why it is his specialty and why it is aptly named $40 lasagna.  This lasagna was so packed with delicious ingredients and was in a HUGE party-sized baking pan.  I am even wondering if $40 would cover that grocery list!  Salad and garlic bread rounded out the menu.
Then Sue disappeared into the kitchen and returned with this plate.
Butter cookies … ah, I'll bet you can't eat just one!  My Chief Cookie Eater and I decided last fall that we were going to cut out or at least cut back on our daily sugar intake.  I can down on mine, he basically cut the sugar in the form of dessert out of his diet.  So, having any dessert, let alone sugar cookies was tempting.  Actually, on the way to the dinner party we both agreed that since it was New Year's Eve if we wanted dessert, we would enjoy a little.
A little … well, I'll betcha can't eat just one!  That was definitely the saying of the evening!
Later my sous-chef dish-washing mom admitted, "I'm pretty sure I ate 6!"  Yes, they are melt-in-your-mouth delicious.  These cookies are crisp on the outside and soft on the inside.  My Chief Cookie Eater says "they are perfect."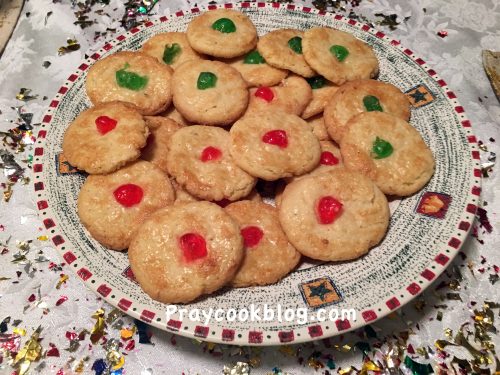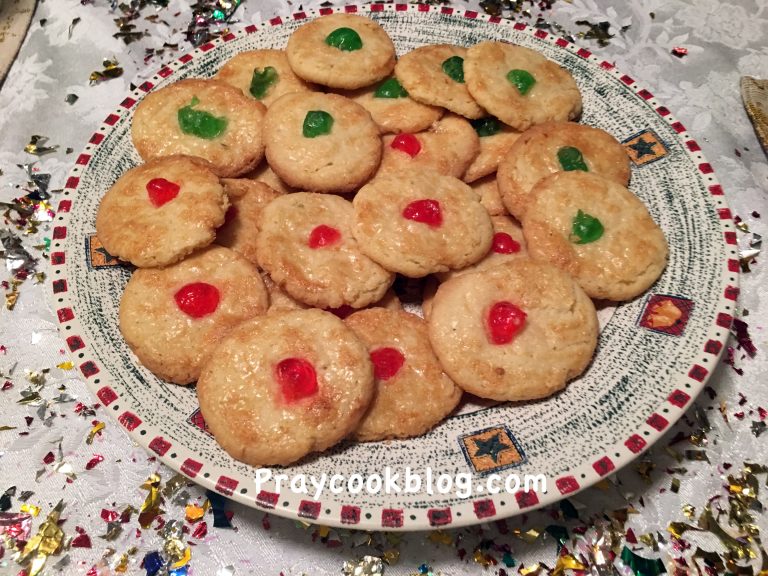 I quickly told Sue about my blog and asked if I could share the recipe.  She quickly said "yes!" and emailed me the recipe.  Sue says "the recipe originally came from my mother.  I'm not sure where she got it, but as a child, we lived in New Jersey, about 25 miles from NYC."   Sue and Bob report these cookies have been enjoyed on three continents that they know of — North America, Europe, and Asia!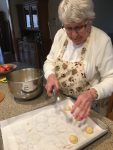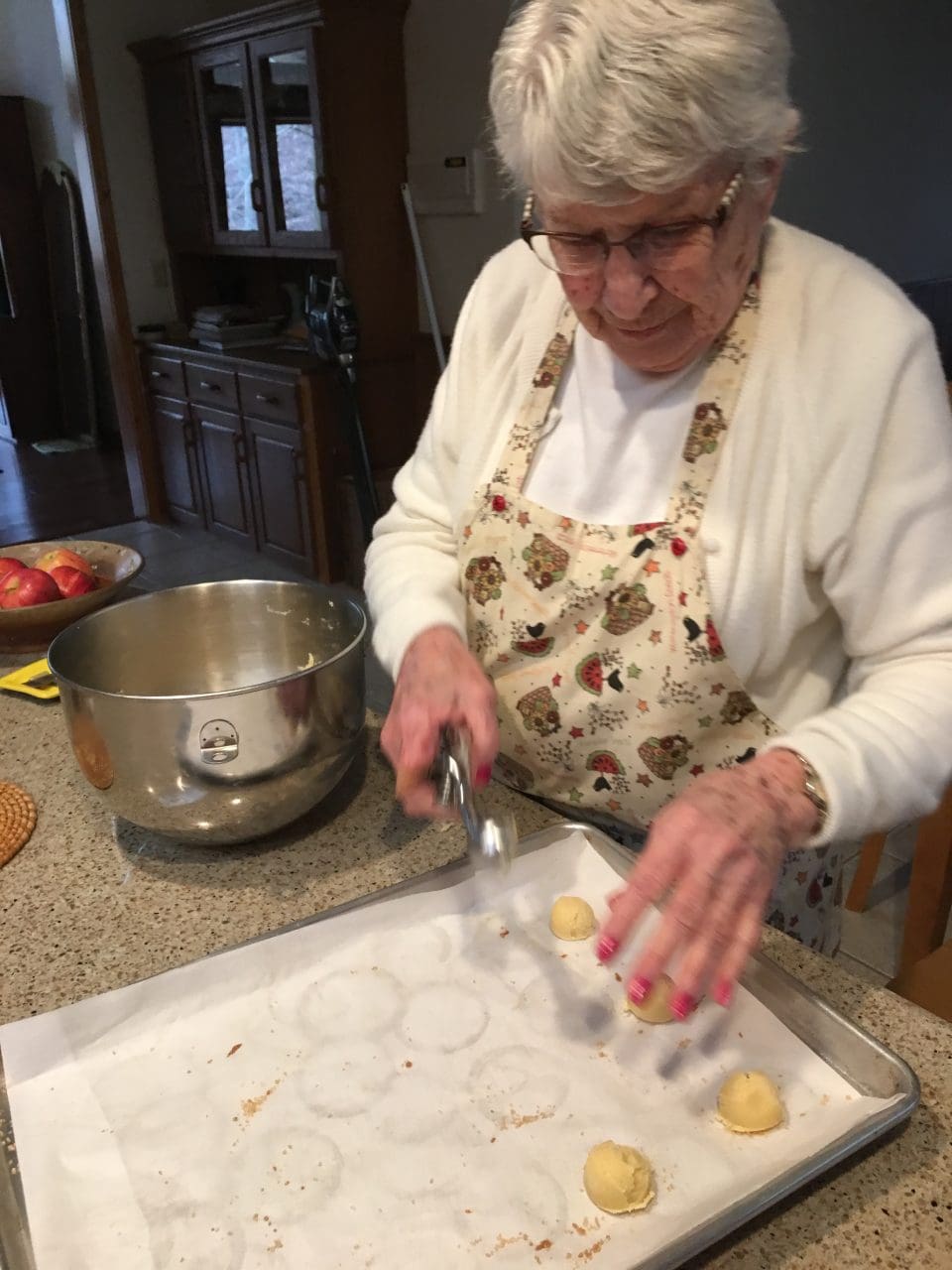 Several weeks ago we were going to have a fellowship lunch at Community Bible Study.  Since my husband, my mother and I are all in CBS we needed to take a BUNCH of cookies to share.   Mom and I made 4 batches.  The entire house had that sugar cookie candle fragrance except it was the real thing!
Anxious to share with our CBS friends we carefully divided up the cookies freezing them for the big share day.  That is when mother nature decided to put nearly 3/4 of the United States in a deep freeze.  Then it rained, turned to sleet and eventually snow.  School was canceled for 3 days and Community Bible Study was also canceled.  A little snow and ice paralyze the South because the back roads just get impossible to drive on.  Oh, my word!  We have a lot of cookies in our freezer.
 This recipe makes between 3 and 4 dozen cookies depending on how big you make them.  Sue made them small, so we made them small.  I tried one panful of larger cookies and we just didn't like them as well.  We sprinkled some with a little sugar and left some plain for those who want less sugar.  All-in-all these are the best butter cookies I've ever made.
Thank you, Sue Schultz, for sharing Grandma Schultz's Best Butter Cookies!  We are thankful for family who are friends and friends who are like family!
Enjoy and happy baking!
~Catherine
Grandma Schultz's Best Butter Cookies
Yes, they really are the best butter cookies! And easy too!
Ingredients
2 cups butter, softened
2 cups sugar
2 eggs, separated
4 ¼ cups sifted flour
2 teaspoons vanilla
1 teaspoon salt
Candied Cherries (red/green) for decoration * Optional
Instructions
Preheat oven to 350 degrees F. Place parchment paper on cookie sheet.
With the mixer on medium speed, cream softened butter, add sugar and cream thoroughly.
Add egg yolks, flour, salt, and vanilla. Mix well.
Form small balls of dough using a small cookie scoop or 2 teaspoons of dough.
Place each ball on cookie sheet about 2 inches apart.
Flatten with the heel of your hand.
Brush tops of cookies with lightly beaten egg whites. This is an important step because it causes the cookie to have that shiny browned look!
Top with bits of candied cherries or sprinkle with sugar.
Bake at 350 degrees F for about 10 minutes or until lightly brown on top and around the edges. These burn easily because of the high butter content. Watch the first batch carefully to adjust oven time accordingly. Convection ovens may take less time.
ENJOY!