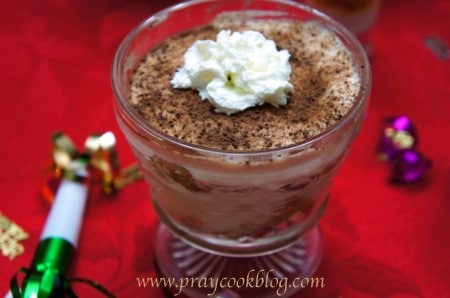 My friend Margaret gave me the cutest little mini-parfait glasses for Christmas.  They are so cute and came with cute little spoons! Immediately I started researching dessert recipes to serve in the cute little parfait glasses.  New year's eve was just around the corner and I surely wanted to show off my new glassware.  Dinner centered around lasagna and so Tiramisu was high on my short list. I decided to serve a variety of mini-parfaits.  Choices! Choices!  I just love dessert choices!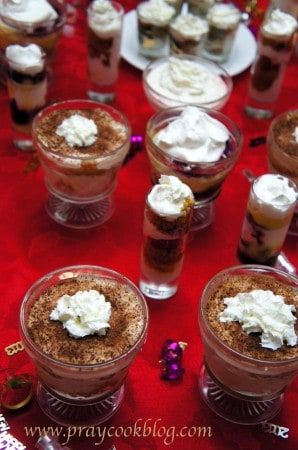 Since I wanted to give our guests choices in desserts,  I also decided to serve in a couple different sizes so that everyone could eat the most of their favorite and yet give the other parfaits a try!  I chose a healthified version for my tiramisu.  This simply means some ingredients were replaced with great-tasting alternatives to create a better-for-you recipe that is equally as yummy as the original.
I have four grocery shopping choices within my immediate vicinity. One – two – three – four and I couldn't find even one little ladyfinger for my tiramisu. I went to my Baking With Julia cookbook and there I found the recipe for a sponge sheet cake, perfect for the ladyfinger replacements.  While making the Sheet Genoise was good practice, I hope you will be able to buy your ladyfingers! After making the sponge cake I cut half of it into little cubes to use for the tiramisu.  The rest of the cake I made into a little jelly-roll for another day.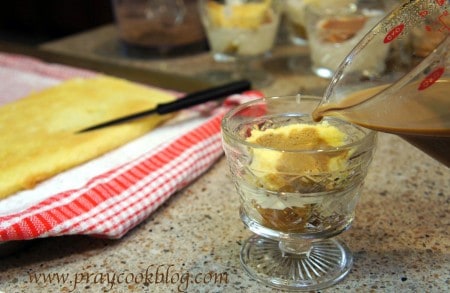 While the cake was cooling I put together the healthified cheese mixture, combining cream cheese, reduced-fat ricotta cheese, powdered sugar, and vanilla.  After the cheese mixture was good and creamy the yogurt was beat in until well blended.  In a separate bowl I mixed together the espresso, Kahlua and a couple of tablespoons of Baileys Irish Cream.  It was for New Year's eve after all!  Then the fun part — layering Ladyfingers, espresso mixture and cream cheese mixture until each glass is filled.  Grated chocolate is sprinkled between the layers.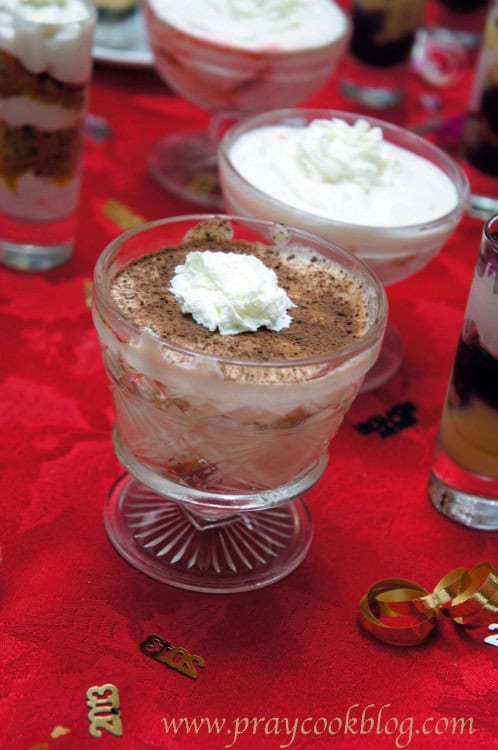 The other fun part — eating this delicious dessert of course!
Soon I will share a healthified Key Lime & Strawberry Parfait that will steal the dessert show on New Year's eve and any other day of the year!
~ Blessings and Happy Cooking! Catherine
Healthified Tiramisu Mini-Parfaits
70% less saturated fat, 65% less fat, 37% fewer calories than the original recipe. This favorite dessert is loaded with all the taste minus the high fat and calories! Rich and delicious with a hint of the coffee and chocolate flavorings.
Ingredients
4 ounce Neufchatel cream cheese softened, (1/3 less-fat)
¾ cup reduced-fat ricotta cheese
½ cup powdered sugar
1 teaspoon vanilla
1 container (6 oz.) Yoplait Original 99% Fat-free French Vanilla yogurt
⅓ cup cold brewed espresso or strong coffee
2 tablespoons coffee-flavored liqueur (i.e. Kahlua)
2 tablespoons Baileys Irish Cream (optional)
1 package (3 oz.) soft ladyfingers, cut into ½ inch cubes
1 oz. semisweet baking chocolate, grated (1/4 cup)
Instructions
In a medium bowl, beat cream cheese with electric mixer on medium speed until smooth. Beat in ricotta cheese, powdered sugar and vanilla until creamy. Beat in yogurt until well blended.
In a small bowl, mix espresso, liqueur, and Baileys Irish Creme.
In 8 small parfait glasses or small dessert dishes, layer half of the ladyfingers, half of the espresso mixture and half of the cheese mixture. Sprinkle each with about ¾ teaspoon grated chocolate. Repeat layers.
Cover and refrigerate for at least 1 hour. Top with a dollop of whip cream to serve.
Store covered in refrigerator.
Notes
*Baileys Irish Cream is an optional ingredient adding richness to the parfait.

Instead of ladyfingers, you can use 4 cups of angel food cake cubes.

A sprinkle of baking cocoa in place of the chocolate on each layer is a nice substitute.

Recipe adapted from www.livebetteramerica.com