Today is my Sous-chef Dish-washing mom's 87th birthday! I am thrilled  to dedicate this blog post to her. She was born in 1931 during the Great Depression and her mother and father lived in Omaha, Nebraska. Her father died when she was young and she and her sister, Mary, were taken to an orphanage shortly afterwards. She spent many years in the Nebraska Children's Home orphanage being adopted when she was 9. Even though her 87 years have dealt her many ups and downs you would never know it by her daily attitude of smiles, love, and gratitude.
She raised three sons and one wonderful daughter! (Hey, I am writing this so it is my perspective!😜 ) However, there are many, many others who call her "mom." It doesn't matter where we go she becomes the resident mom! All of my friends know her name is Alice but everyone chooses mom.  The name fits perfectly and looks awesome on her!
Even though she has been a Christian throughout her life, in 2011 she began studying the Bible in-depth through Community Bible Study.   At 80-years-old she let the Word of God totally transform her.  In 2014 she was diagnosed with breast cancer and she persevered through 2 surgeries and radiation treatment with a strength and attitude that she credits coming from her faith in God.  Not once did she question her situation with a "why me?"  As a matter of fact, she was usually comforting and giving encouragement to others going through the same thing.
My brother Michael and his wife Kay drove from Lee's Summit Missouri on Sunday to surprise her.   We had made an elaborate plan that included taking her to Pigeon Forge, Tennessee for her birthday week.  You know what they say about the best-laid plans of mice and men!  Last week an almost 87-year-old tooth abscessed and the process of getting that fixed has derailed travel this week.
But that didn't stop us from celebrating her birthday Sunday evening before Michael and Kay left for East Tennessee without us!  My brother John and his wife Jeanne participated from afar as we gifted mom with some green stuff to go shopping!  It looks like Michael got the giggles watching mom blow out the candles!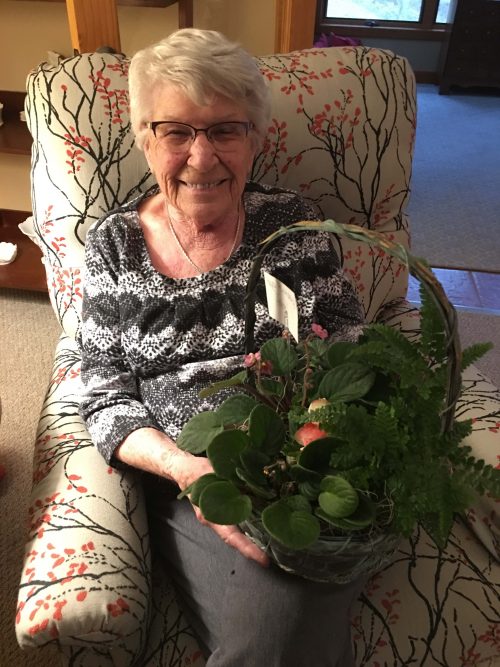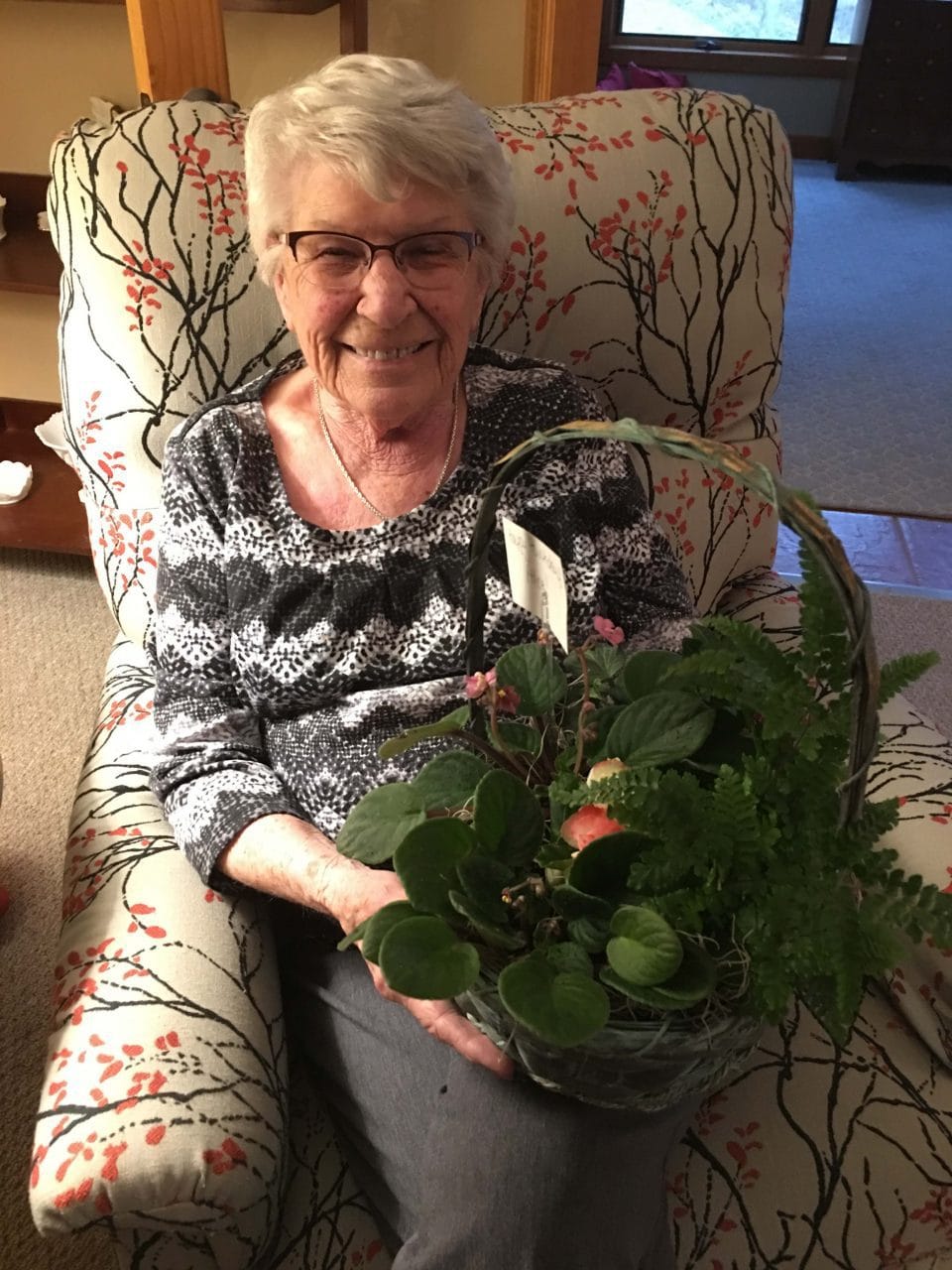 As I am writing this blog post she received this lovely floral arrangement from dear friends, Catherine and Russ.  I couldn't resist a quick photo!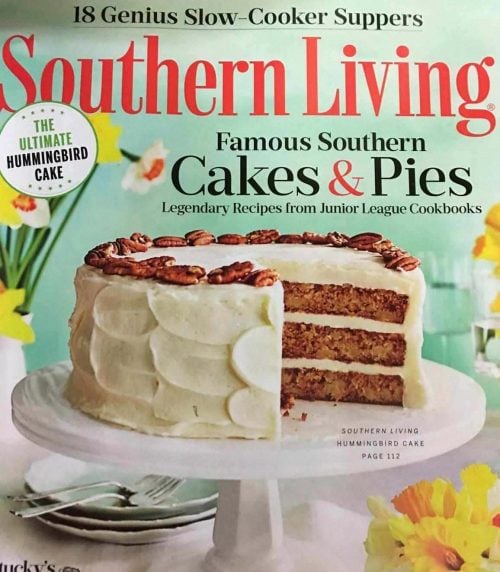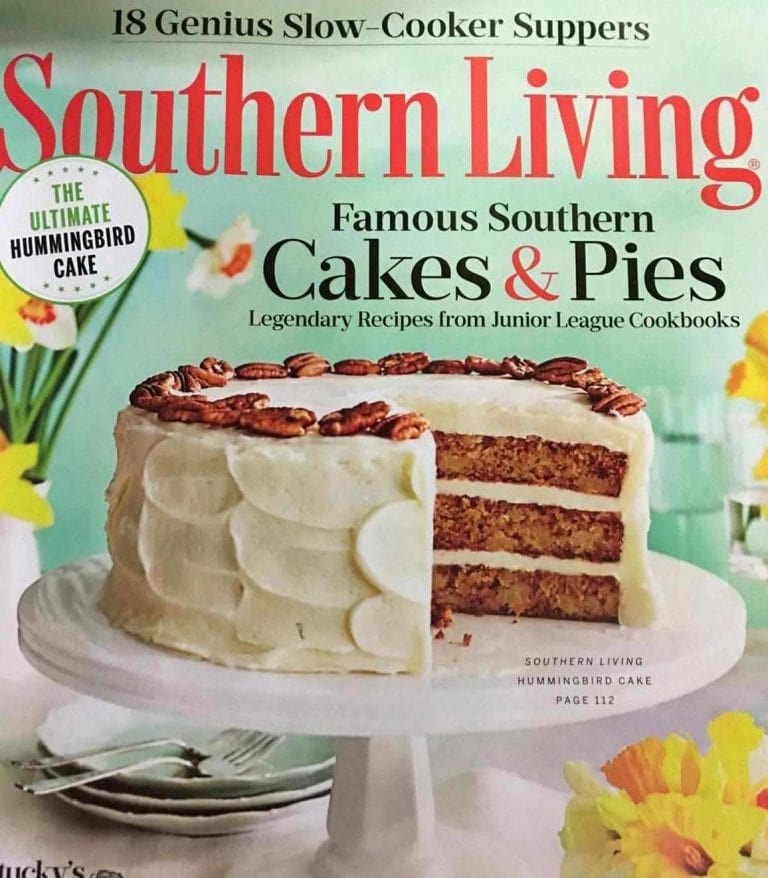 Now … on to the cake! When the latest Southern Living magazine arrived I immediately knew I wanted a Hummingbird Cake for mom's birthday.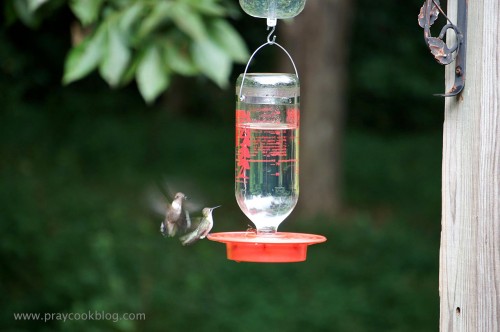 First of all, she is enthralled with hummingbirds and much of our spring is spent waiting for them to arrive.  In the summer we watch them daily and in the fall we sadly say goodbye.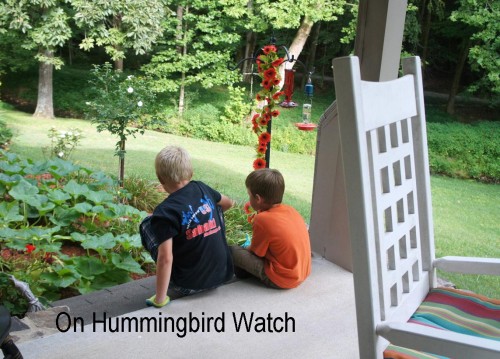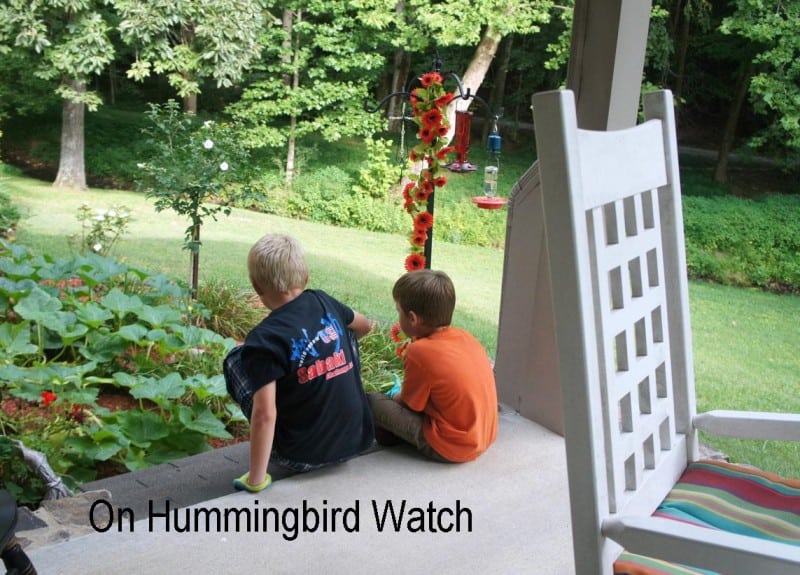 Mom has even had her great-grandkids on hummingbird watch!  All winter my hummingbird-watching mom wonders if they will be back in the spring!
Last fall my Chief Dessert Tester and I decided to cut out most sugar in our diets by cutting out desserts.  (I know!  Me? No sugar?)  So, I knew if I started baking a cake she would know something was up.  That is when I asked my neighbor and blogging partner, Abby Hughes to make the Southern Living Hummingbird Cake.  Abby is an accomplished chef, baker, and extremely good friend.  Quickly she said "sure!"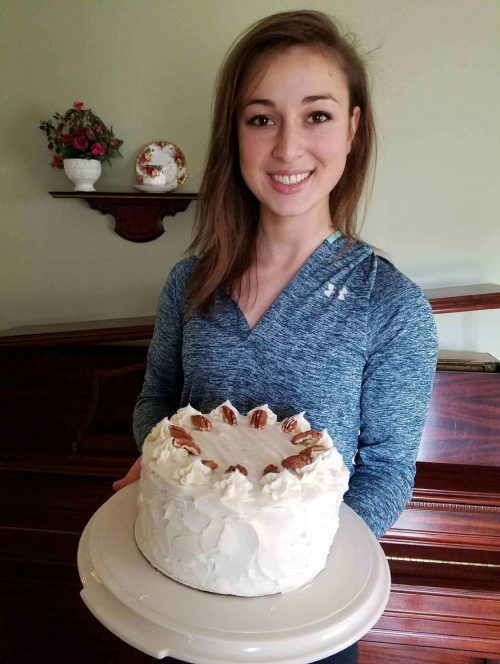 Abby made the cake and secretly brought it over the night before Michael and Kay arrived.  Whew!  Mom didn't suspect a thing!
Since the Hummingbird Cake recipe originally ran in 1978, it has become the most requested recipe in Southern Living history.  Besides the usual suspects of flour, sugar, and eggs, this cake includes oil instead of butter, giving it an almost quick-bread like texture.  Undrained, crushed pineapple adds flavor and keeps the batter moist.  Chopped bananas are a surprise ingredient.  But the real southern flavor comes from the toasted, chopped pecans! Yum!  A cream cheese frosting is the perfect covering.  Abby added her own flair with edible glitter!  Beautiful and tasty!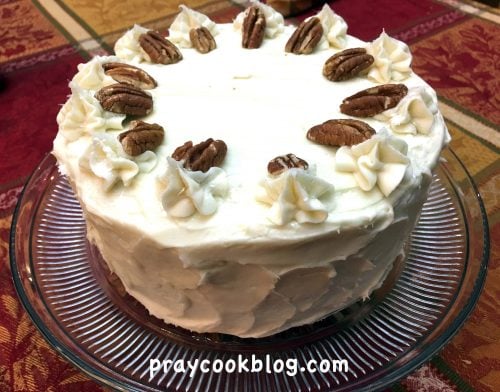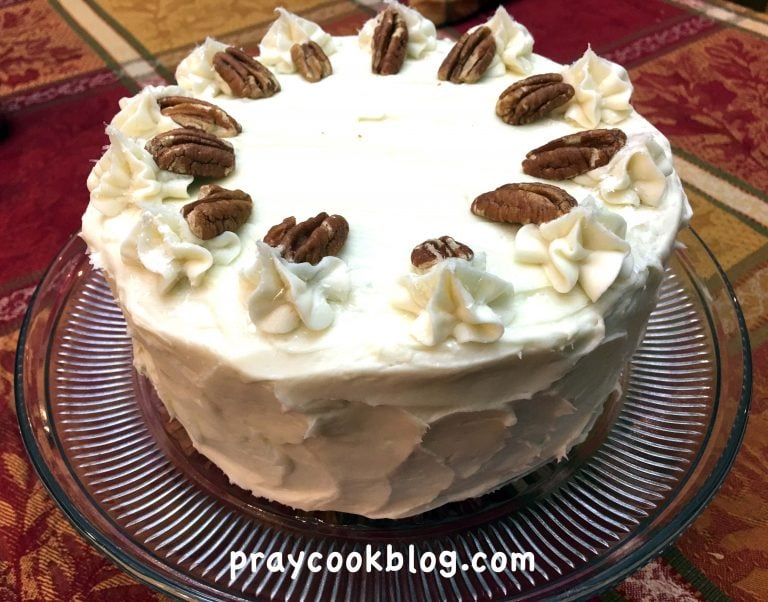 The updated recipe is found here and includes a quick video that shows how easy it is to make this from-scratch cake!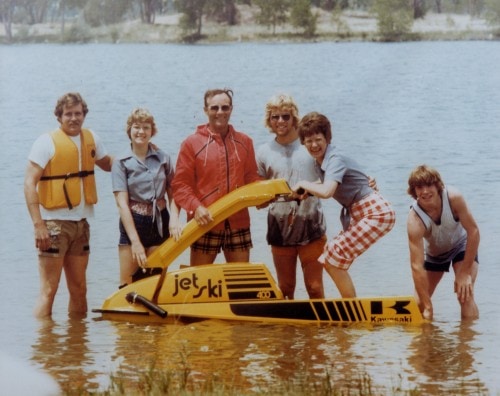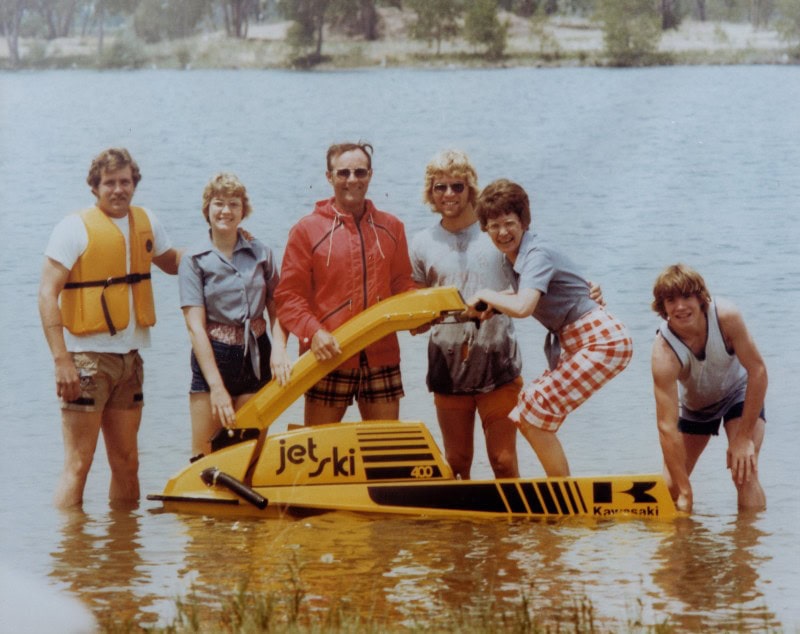 With each passing year, we thank God for the life of our mother and father.  This year is no different when we remember our father and our brother Steve who have gone to Heaven before us.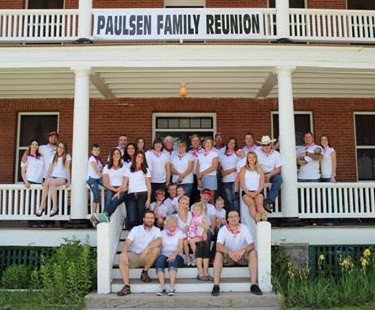 This was our 2014 family reunion photo from Fort Robinson Nebraska.  We look forward to another reunion this summer.  We love you, mom!
Happy Birthday mom and many more!
Love and blessings,
~Catherine