Yesterday's recipe, Baked Oatmeal really hit home with several of you. I told you it would be a "healthy surprise" and it is. However, I received two comments that are great suggestions and I am going to try both the next time I bake this.
My eldest son said, "That sounds delicious. But I am my Mother's son and I think I might tweak it a little too. I'm going to try it with coconut oil for an even healthier boost!"
And then I heard from my dear friend Toni who said, "…this looks really good .. I am going to try it very soon — only I will use Stevia — just don't need that sugar in such an otherwise very healthy recipe…"
I know you can read these under the comments of the recipe but I think they are both such good suggestions that I wanted to make sure you know about them! J
Moving on, as promised, soon I am going to post my recipes for Cabbage Burgers, Italian Burgers, and Veggie Burgers. But before I do that, I need to give you the second bread recipe that you may want to use in making the burgers. You can find the first recipe under My Best Dinner Yeast Rolls. The second, Italian bread dough is a very multi-functional recipe. I have made this recipe into dinner rolls, into a beautiful round loaf of herb bread, and our favorite – as the dough for Italian Burgers!
Boy oh boy do I love to bake bread! I love the feel of it in my hands, the smell of the yeast rising, the look of the bread all happy and puffed up just before baking, and … oh the smell of fresh bread in the oven! Wow, I don't know if I can finish writing this recipe, I may need to leave for a bit and go put some bread in the oven.
Ever since I began baking bread when I was 18 years old, I have enjoyed it. But, I have had many failures. In the early years, I would oftentimes end up with a brick instead of a loaf — it would be too heavy, too dry, too moist and the list goes on.
Today, while I have more successes than failures, I can still end up with an experiment gone awry from time to time.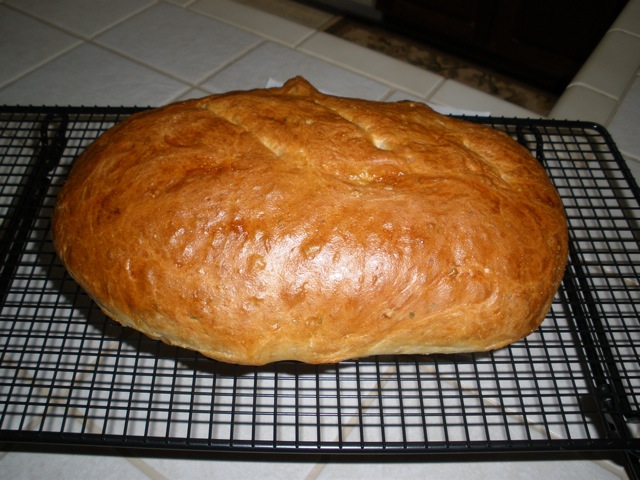 A couple years ago I was visiting with my brother's family in Kansas City and my niece, Jaeme, made the most delicious Italian bread to go along with a fabulous chicken and shrimp Caesar Salad! When I asked Jaeme for the recipe, she admitted that she started with a basic Italian bread recipe and by this time had "tweaked" to the point she wasn't sure of exact measurements.
Well her wonderful bread sent me home to experiment! While I don't think I can match the memories from that evening, this recipe is now one of our favorites. I hope you will do some experimenting of your own and let me know how it turns out!
Basic Italian Bread with a little herb twist!
1 cup water, lukewarm (ideal temp is 95 to 120 degrees) – I always check with an instant-read thermometer)
1 Tablespoon and 1 teaspoon yeast
2 ½ cups bread flour (adjusted as necessary)
1 Tablespoon brown sugar (dark or light)
1 Tablespoon extra-virgin olive oil
½ Tablespoon salt
1 egg white, lightly beaten
1 Tablespoon Italian Herb Seasoning
1 Tablespoon sesame seeds (optional)
Place the water and yeast in a bowl or in the bowl of an electric mixer, food processor, or Kitchen Aid. Allow the yeast to bloom for about 5 minutes. Using a dough hook attachment, add the flour and sugar to the water/yeast mixture. Mix on low speed until the dough starts to leave the sides of the bowl.
Drizzle the oil and salt into the dough and beat on medium speed for 8 to 10 minutes or until a smooth, firm, elastic dough is formed. If the dough remains sticky, add a little flour just 1 tablespoon at a time until the dough is smooth. Do not over-add flour or the bread will end up too heavy.
Transfer the dough to a lightly oiled bowl and spray the dough with a thin coating of cooking spray. Wrap the bowl with plastic wrap or a towel and set aside to proof in a warm, draft-free place for 1 ½ hours or until doubled in size.
Remove the plastic, punch down and flatten the rounded dough with the heel of your hand. Roll the dough up tightly, sealing the seam well with each roll. The dough should be elongated and slightly oval-shaped, with rounded and tapered (but not pointed) ends.
Place the dough on parchment paper or baker's peel heavily dusted with semolina flour or cornmeal. Allow the dough to proof, loosely covered with a moist paper towel, for about 30 minutes or until doubled in size. Don't let the time getaway or the loaf with get too large and too airy.
Brush the dough with the egg white and sprinkle on sesame seeds (optional). Using a razor blade or sharp knife, score 3 (1/4 inch deep) slashes across the top of the dough at a 45-degree angle. This allows the bread to rise and the air to escape.
If you have a pizza stone, preheat the pizza stone in a 400-degree oven. Alternately, an inverted cookie sheet may be used in place of the stone.
Mist the dough generously with water from a water bottle and place on the preheated baking stone. Put back in the oven and bake for 3 minutes. Open the oven door and mist spray the dough again with the water. Close the oven door and bake for an additional 3 minutes before spraying the dough for the third time.
Bake dough for about 20 to 25 minutes, or until a hollow thud is heard when the bread is whacked with the bowl of a wooden spoon.
Allow bread to cool before slicing and serving.

Italian Bread With Herb Twist
A few things I have learned:
Misting the dough with water will ensure a crisp golden-brown crust.
The temperature of the water to mix with yeast is critical enough to invest in a quick read thermometer.
This recipe is a good one to use for Italian Burgers a recipe I plan to post next week!