Fresh apples are a plenty at this time of the year and baking an apple can make a very luxurious dessert.  I've baked apples for years but with a refrigerator drawer full of apples I decided to Google a new recipe for this old favorite.  Wow!  I am so glad that I did.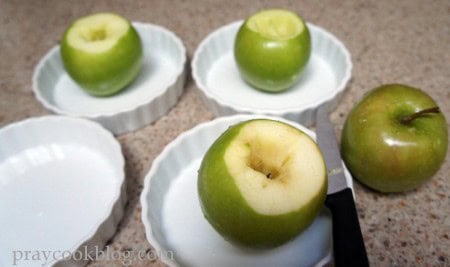 Who says you can't teach an old dog new tricks?  I landed on the Food Network site and a recipe by Paula Deen. First thing I read from her recipe said, "Core apples, making sure not to puncture the bottom of the apples so that the juices will remain."  I always cut the apple core all the way through and then was dissatisfied as all the goodies and juice would run all the way through.  Duh, how come I didn't think of this?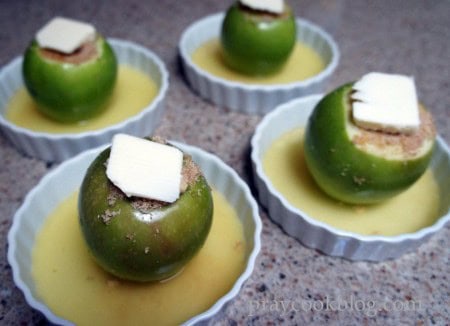 After filling the center with the usual walnuts, brown sugar and cinnamon, apple juice is poured around the apple and a pat of butter placed on top.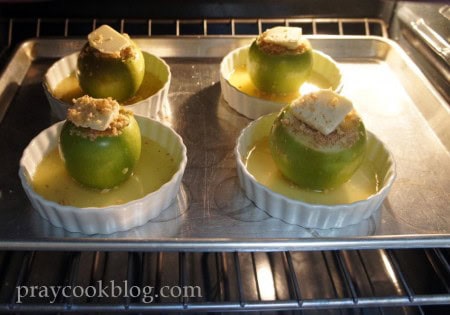 In to the oven they go for about 45 minutes or until baked through.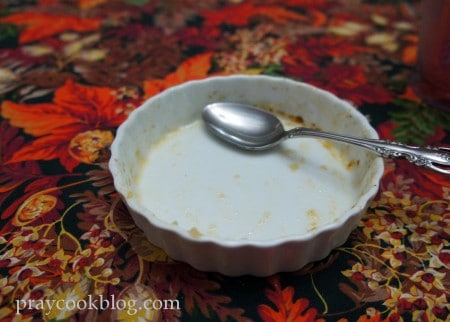 When I served these baked apples my sous-chef dish-washing mom and the Chief both agreed they were the best they had EVER had.  Really?  Ever?  Yes! Ever.
I used granny smith apples although I believe Gala or Fuji will work well also.
The Chief  just asked me what I am blogging.  When I told him, "baked apples" he said, "Oh, let's have those again tomorrow!"  Enough said.
Happy Autumn and Happy Baking!
~Catherine
Baked Apples
The best baked apples I have ever made! Thank you Paula Deen!
Ingredients
1 teaspoon ground cinnamon
¼ teaspoon ground nutmeg
½ cup brown sugar
6 same-size Granny Smith apples
2 tablespoons butter, cut into 6 teaspoon-size pieces
1 cup apple juice
Instructions
Preheat oven to 325 degrees F.
Combine cinnamon, nutmeg, and brown sugar in a small bowl. Set aside.
Core apples, making sure not to puncture the bottom of the apples so that the juices will remain. Remove skin from ½-inch around top of apples at the opening. Fill each cavity with the cinnamon-sugar mixture.
Top each apple with a teaspoon of butter.
Place apples in casserole dish and pour apple juice around them.
Cover pan with aluminum foil and bake for approximately 45 minutes to 1 hour.
Remove from heat and serve.
Optional garnish: whipped cream, ice cream, or mint leaf.
Notes
Best apples: granny smith, fuiji or gala.

Adapted from recipe from Paula Deen:

http://www.foodnetwork.com/recipes/paula-deen/baked-apples-recipe.html