Whoever does not love does not know God, because God is love. 9 This is how God showed his love among us: He sent his one and only Son[

a

] into the world that we might live through him. 10 This is love: not that we loved God, but that he loved us and sent his Son as an atoning sacrifice for[

b

] our sins.   (New International Version 1984 (NIV1984)
Looking Back At 2011 As We Move Forward Into 2012
It seems that the last week of each year is often spent looking back at happenings during that year as well as looking forward to our hopes and dreams, and resolutions(!) for the new year.  Over the next couple days I plan to do just that!  I have a darling little Christmas tree in the corner of my combo dining room/kitchen.  I wanted to share some pictures of this tree earlier in December but I had too many recipes that took precedence.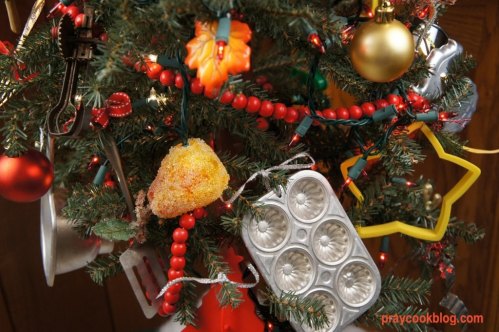 I went to a program in the fall of 2010 and a decorator showed how to take kitchen utensils and cooking related items and decorate a tree.  I went right home, dug through all my kitchen "stuff" pulled out duplicates and cutesy items and decorated a small thin tree.  I LOVE this little tree.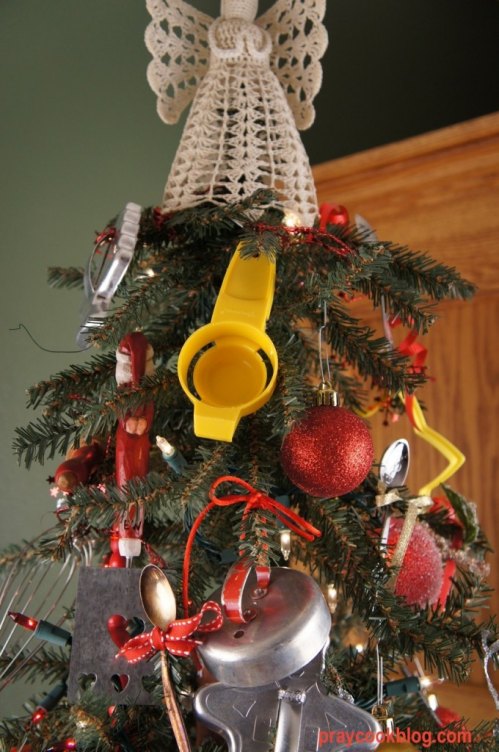 I topped the tree with an Angel made by my Grandmother Paulsen many years ago.  It fits just perfect.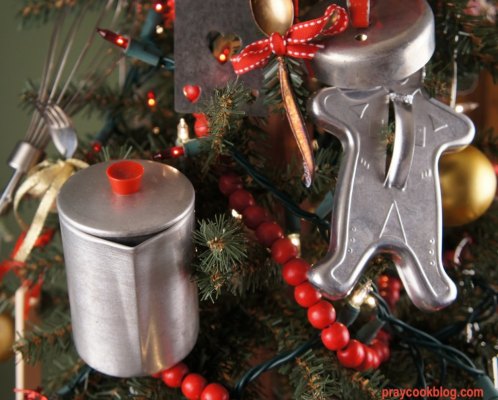 This little coffee pot actually came from the era of my childhood!  Next fall I will post these again just in case any of you want to decorate such a tree for your kitchen or dining room next room.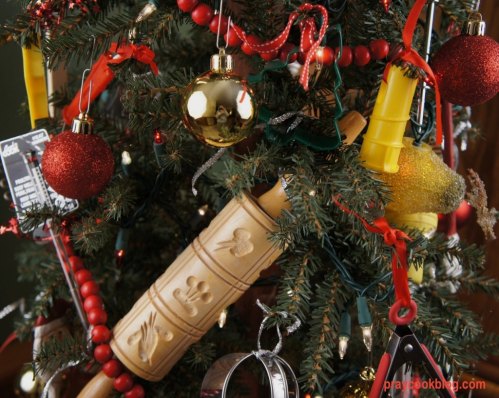 Now for a little "looking forward" — the ladies at www.ourbestbites.com
just posted this great idea for a New Year's tree.  Sara took all the Christmas ornament off the tree and replaced it with balloons filled with money, wishes for 2012, and funny jokes.  On New Year's Eve she and her family will POP! the balloons ringing in the New Year.  For all the details take a look at www.ourbestbites.com.  I am definitely going to do this next year!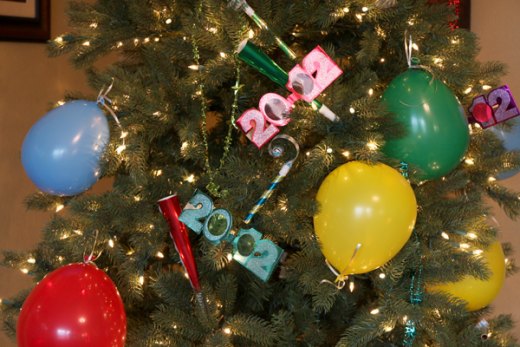 Now just a reminder — don't forget to leave a comment on today's post to be entered into the drawing on Friday for my last cookbook to giveaway this year!  Shall we talk about resolutions?  How about sharing one of your new year's resolution?   In the meantime I will sign off until tomorrow  with a recipe I made for the first time this year and is now one of my very favorite: Topsy Turvy Apple Pie! I saw a picture of this on my friend Helen's Facebook page and I just couldn't find the recipe and get it made quick enough.  As a matter of fact, I am planning on convincing my mom to make one today!  Many Blessings and Happy Cooking!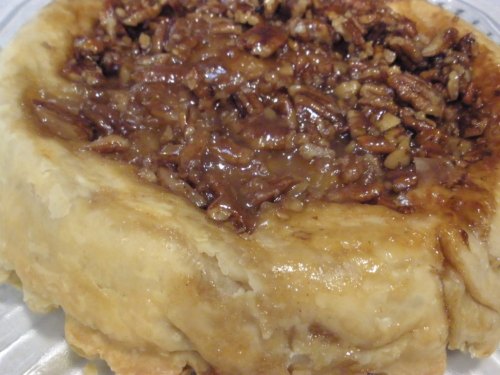 (Click on the picture and it will take you to the recipe post)