Bringing the Story to Life
Week 7 reading plan per day:
Click on the colored link to read each day's scripture.
Monday (Numbers 1-4) Tuesday (Numbers 5-6)
Wednesday (Numbers 7) Thursday (Numbers 8-10)
Friday (Numbers 11-13) Saturday (Numbers 14-15)
Sunday (Numbers 16-17)
Heavenly Father, we ask that your Holy Spirit make us more aware of your great love for us as we read your truth. May we respond with grateful and worshipful lives as we recognize your care and concern for our every need. We welcome your best into our lives as we live for Your glory. In Jesus name, amen. ©World Outreach Church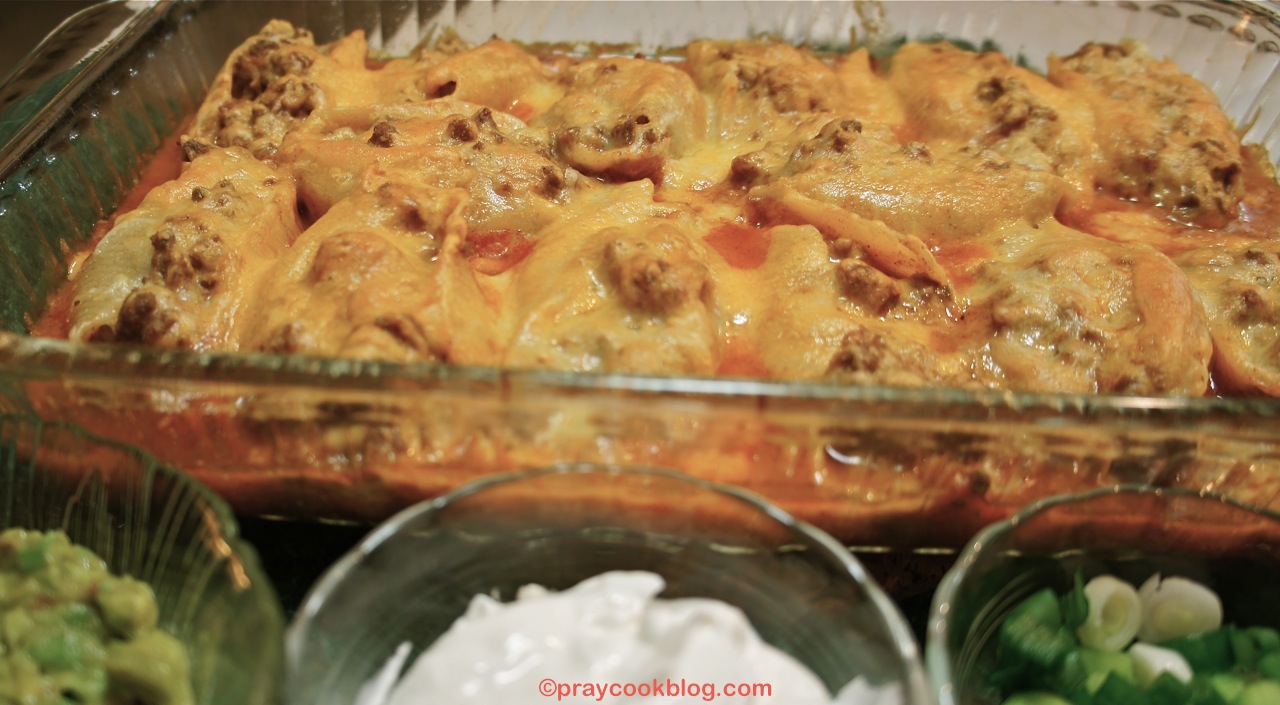 Do you receive an email from me each time I have a new blog post?  If you signed up using the Feedburner system, you probably have not been getting my posted pictures within your email.  After a lot of researching I finally figured out I needed to add some "code" to each image for you to see it in your emails.  I hope you are now receiving pictures!  I would love to know if you are — just leave a comment anytime.  Learning how to manage a website blog takes time and it is an ever changing process.  I am thankful to have this issue crossed off my check list!  🙂  Now, we need to talk about Mexican Stuffed Shells.  Remember when I said I received a couple new recipes when I went to the hairdresser?  Well, Ginger says that Mexican Stuffed Shells is one of her families FAVORITE recipes.  So of course I needed to get to the store, buy the ingredients and try it right away!  I am so predictable like that 🙂 But, I digress … I don't serve mexican dishes very often.  Many times in the past  the conglomeration of meat, cheese, sauce and more cheese would leave one of us with a stomach ache.  However, when Ginger said this recipe was a family favorite I just had to give it a try and both of my culinary consultants and I are so glad that I did.  It is a nice change to mix up the "pasta shells" normally associated with Italian food with the mexican flavorings.  Additionally, I like to use ground turkey instead of ground beef when I can.  The ground turkey worked perfectly in this recipe.  We are blessed to have a pantry full of homemade salsa from last year's garden and so my own salsa was the foundation of the recipe. Then I used a couple varieties of cheese!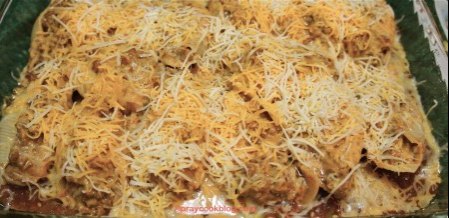 The day I cooked up this delicious dish it was dreary and rainy and my pictures turned out about the same.  So forgive me for no step-by-step pictures and just know the process is fast, easy, and worth every minute.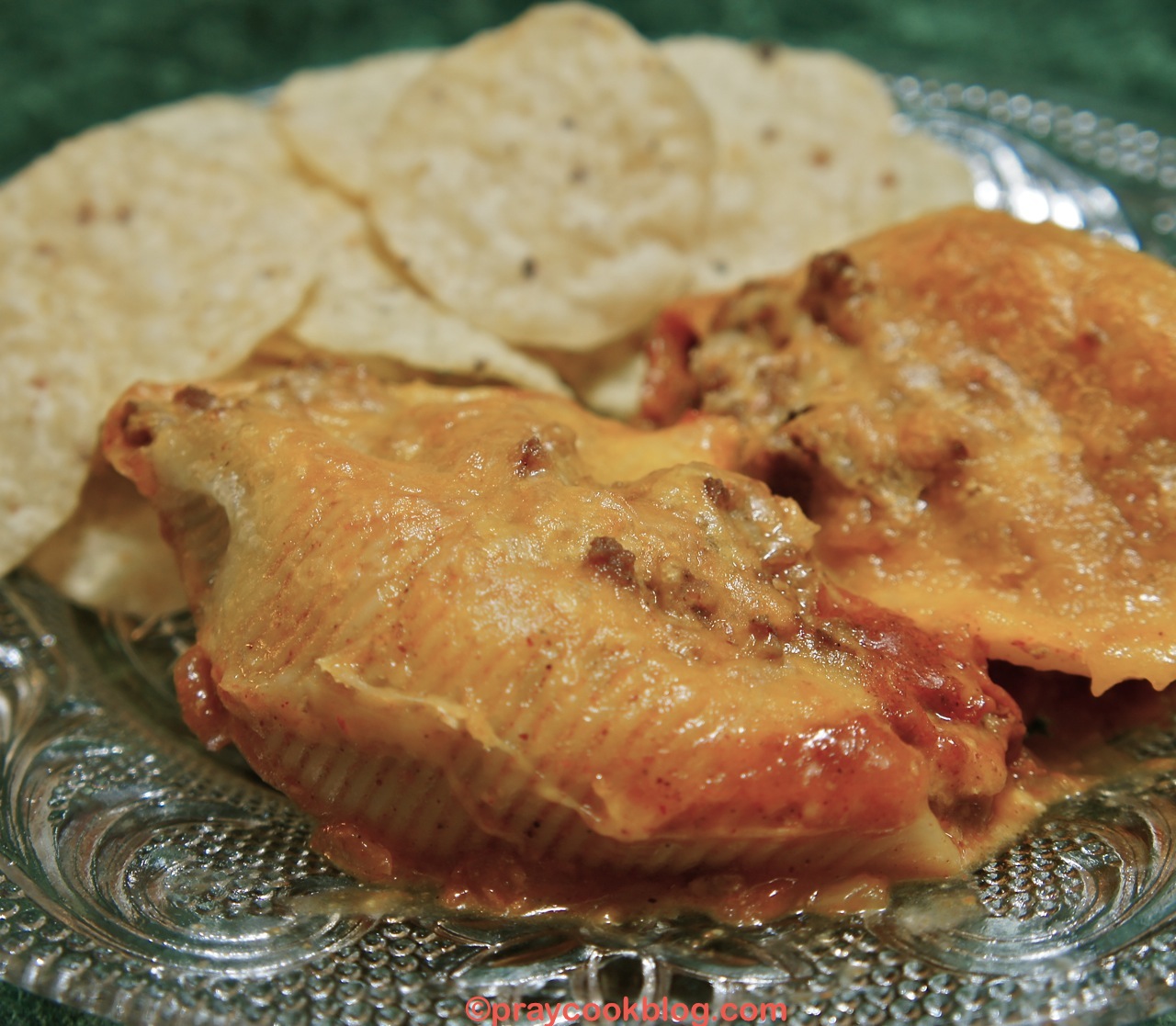 I served these with sides of guacamole, sour cream, green onions, and chips!  The recipe suggests chopped black olives as a side as well.  Ah!  One more thing — these warm up beautifully.  We had three meals from the 14 shells and each one got better than the last!
¡Buen provecho! ¡Buen apetito! ¡Que aproveche!
Mexican Stuffed Shells
There won't be a drop left in the dish when these stuffed shells are served. The mexican flavor, salsa, and cheese combine into a tasty one-dish meal!
Ingredients
1 lb Ground Turkey or Ground Beef
1 Package Taco Seasoning
4 ounces Cream Cheese
12 - 15 Jumbo Pasta Shells
1 cup Salsa
1 cup Taco Sauce
1 cup Shredded Cheddar Cheese
1 cup Shredded Monterey Jack Cheese
3 Green Onions Chopped Fine
1 cup Sour Cream
Instructions
In a frying pan cook ground turkey (or beef); add taco seasoning and prepare according to package directions (adding water.) Add cream cheese, cover, and simmer until cheese is melted.
Blend well. Set aside and cool completely. While ground meat is cooking, cook the pasta shells according to package directions. Drain. Set shells out individually on cutting board or baking sheet, so they won't stick together.
Pour salsa on bottom of 9 x 13 baking dish. Stuff each shell with the meat mixture. Place shells in pan open side up. Cover shells with taco sauce. Cover with foil and bake for 30 minutes.
After 30 minutes, add shredded cheese and bake uncovered for 10 to 15 minutes more. Top with your favorite condiments (green onions, black olives). Serve with sour cream and/or additional salsa.

Notes
(1) Ground turkey works great in this recipe and cuts the fat from ground beef.
(2) I like to use 2 cups of salsa on the bottom of the pan instead of 1 cup, personal preference.