My mother-in-law grew up about 3 miles from where our home is today. She went to school in the area, married here and began raising her children here. She is southern through and through. She knows good southern cooking when she tastes it.  If I were even halfway smart I would only cook yankee-style from my own Nebraska roots when she is visiting. But oh-no, I must serve her favorites from her roots — which includes peach cobbler.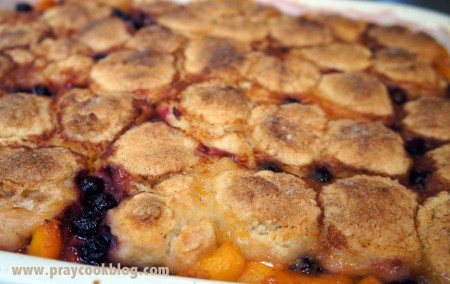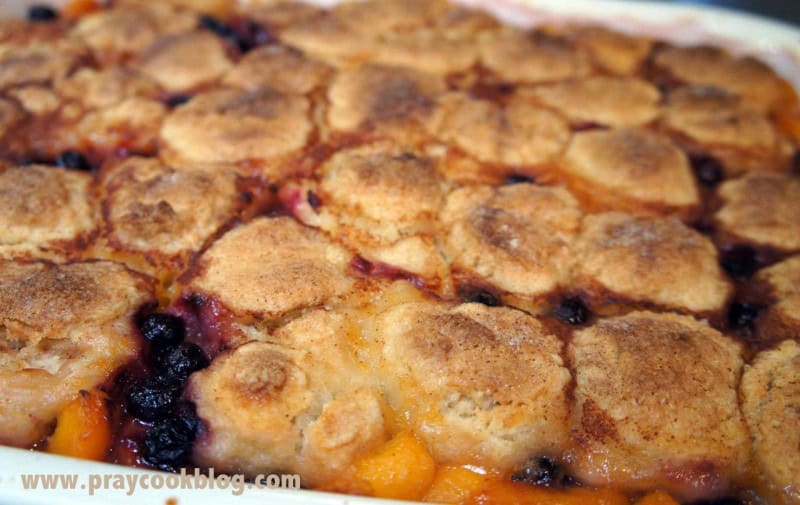 I've made Fruit Cobbler For Dummies time and again, but when I ran across Southern Peach Cobbler recipe from Barefeet in The Kitchen, I couldn't resist.  Mary says she made peach cobbler every two weeks for a couple of months until she found the perfect cobbler. Sounds good to me.  Let's go!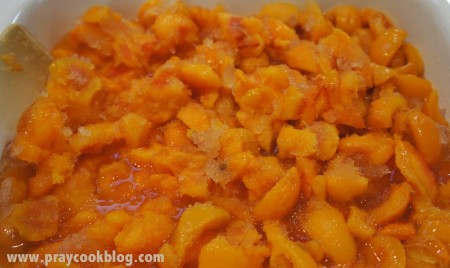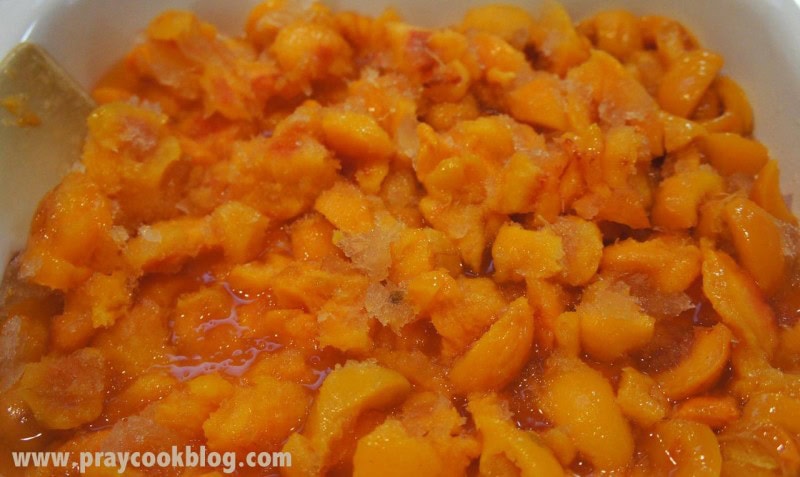 This recipe begins with 8 to 10 cups of fresh peaches. Do yourself a favor and start with a BIG baking dish. Mine is 12″ x 15″ and worked great. I started with 10 cups of frozen peaches from freezer. Hey, they were fresh once.  Now they are partially thawed and looking lovely.  I added white sugar, brown sugar, cinnamon, lemon juice, and cornstarch. The cornstarch will thicken the juices as the cobbler bakes.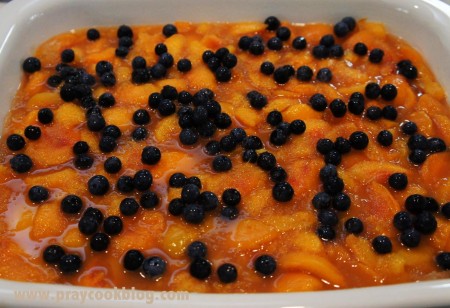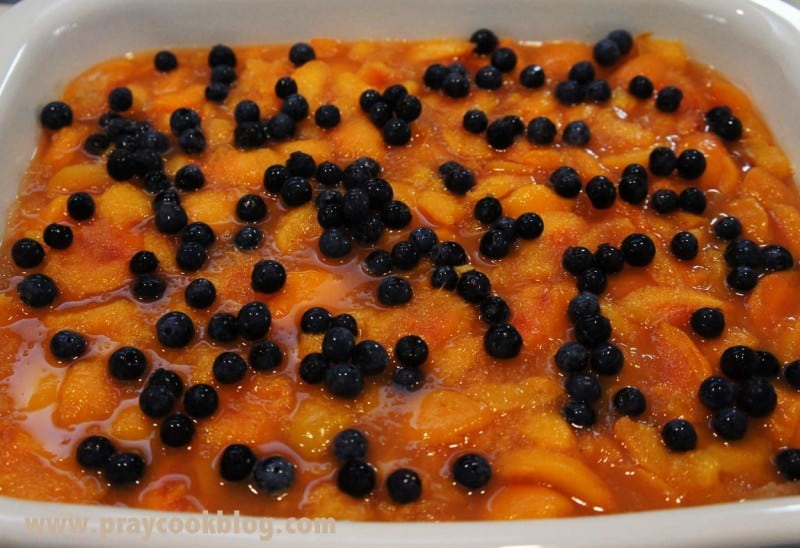 At this point I cranked it up a notch with a cup of blueberries.  Also from the freezer, but originally freshly picked from the garden! At this point the fruit is popped into a preheated oven for about 10 minutes.  While the peaches are heating up I  made the biscuit dough. My sous-chef dish-washing mom did the honor of dropping this dough across the hot peaches using our medium-sized cookie scoop.  A sprinkling of cinnamon and sugar and back to the oven for about 30 minutes or until the peaches are bubbly and the cobbler is nicely browned. Out of the oven, cool a bit and …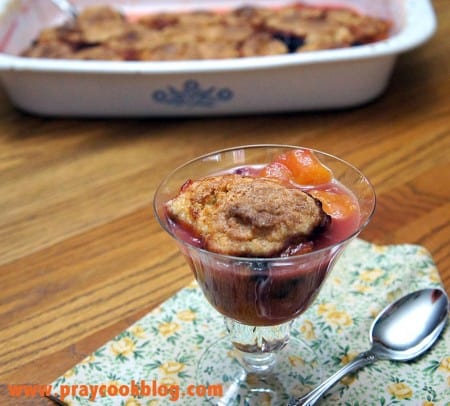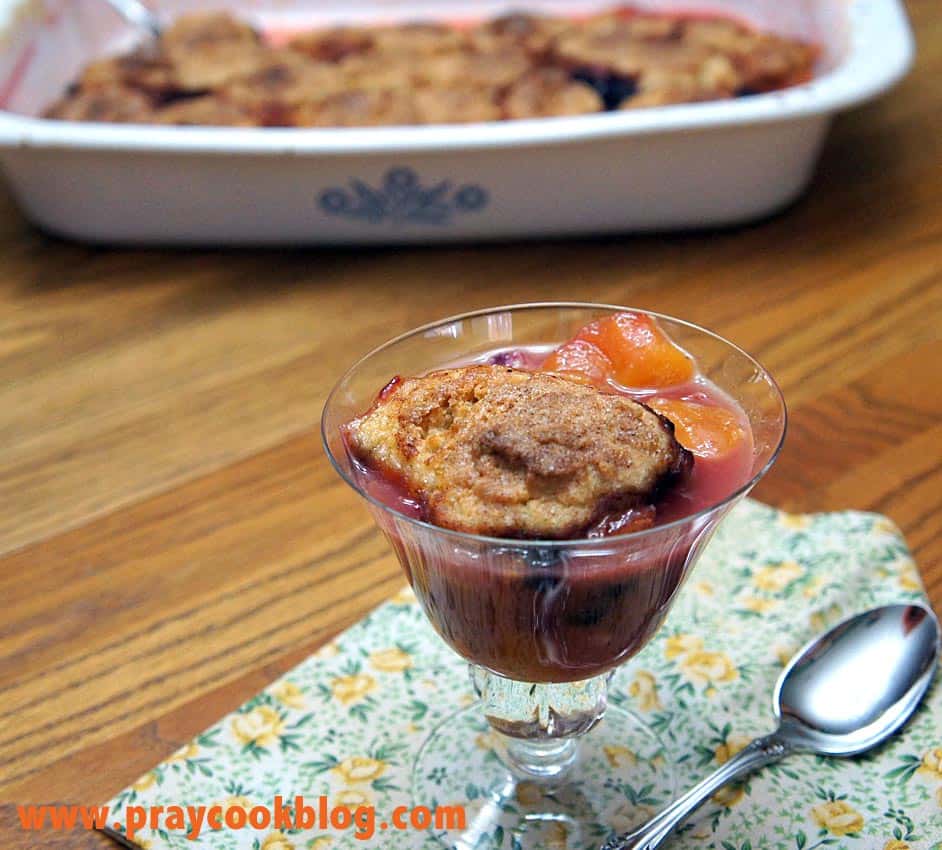 Oh my  word! I only wish you could take a taste of this cobbler. Juicy, fresh, lots of biscuit, oh-so-good! The Chief really likes the biscuit top and so I made sure there is plenty to last with all that fruit.
I realize Thanksgiving is next week, but not everyone wants to make pie for TG dessert.  Cobbler is fast, easy, and quite a crowd pleaser!
~Blessings, Catherine
Our Favorite Peach Cobbler
An excellent recipe adapted from Barefeet In The Kitchen. I increased the cobbler ingredients giving plenty of good biscuit-y topping.
Ingredients
Peach Filling Ingredients:
8 to 10 cups fresh peaches, peeled, pitted and sliced into thin wedges.*
¼ cup white sugar
¼ cup brown sugar
¼ teaspoon cinnamon
1 teaspoon fresh lemon juice
2 teaspoon cornstarch
Topping Ingredients:
3 cups all-purpose flour
¾ cup white sugar
¾ cup brown sugar
3 teaspoons baking powder
1 teaspoon salt
2 sticks unsalted butter, chilled and cut into pieces (1 cup)
¾ cup boiling water
Cinnamon Sugar Topping Ingredients:
¼ cup white sugar
1 teaspoon cinnamon
Optional:
Instructions
Preheat oven to 425 degrees F. Grease a large baking pan (12"x15")**.
In a small bowl, combine all the dry ingredients for the peach filling. Stir to combine and set aside.
In a large bowl, combine the peaches and the lemon juice and then add the dry ingredients. Stir well to coat evenly and then pour into the large baking pan.
Bake the peach mixture in the preheated oven for 10 minutes. While the peaches are baking, combine the dry topping ingredients and whisk to combine. Blend in the chilled butter pieces, using a pastry blender or your fingertips.
Stir in the boiling water, just until combined.
Remove peaches from the oven and drop the topping over them in spoonfuls. (I use my small cookie scoop and it works great.) Sprinkle the cobbler topping with the cinnamon/sugar mixture.
Bake until the crust is golden and a toothpick inserted into the crust comes out clean, about 30 minutes.
Serve warm or at room temperature, adding a dollop of whip cream.
Notes
When in season, I freeze fresh peaches in lemon juice and a light sugar syrup. Slightly thawed, they work well in this recipe.

* The original recipe calls for a 9" x 13" pan, but it will over-flow and make a mess. If you don't have an extra large baking pan, consider using two smaller pans and dividing up the cobbler.