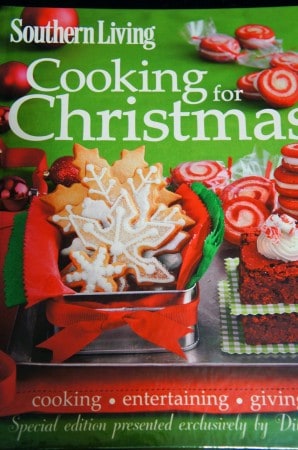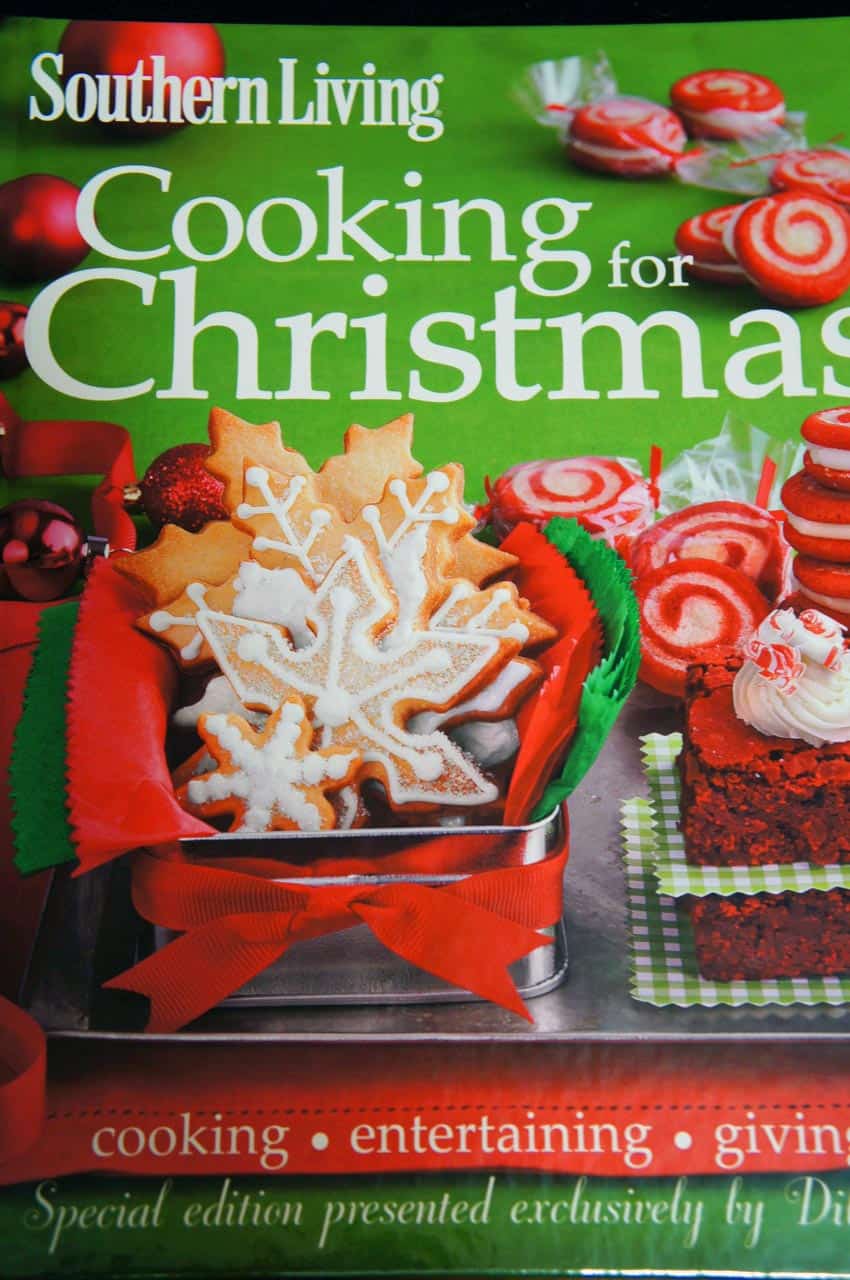 Are you ready for another cookbook giveaway? I am!  I ordered this book earlier in the fall just for a time like this!  At the end of today's Peanut Butter Fudge recipe you will find out how you can win this lovely book chocked full of fun recipes!
Want to know about the fudge?  I haven't had much experience making fudge.  It has not been on my Christmas short list, until now.  The Brown Eyed Baker made Peanut Butter Fudge and the peanut butter part really caught my interest. Then I remembered my daughter-in-law, Ann.  Last year she asked me if I was making fudge for Christmas because it is her favorite.  My "sweets list" was long and already in play and I didn't add fudge. 🙁 This year however, when Ann's Christmas box arrives she will find not one kind of fudge,  but TWO boxes of homemade fudge.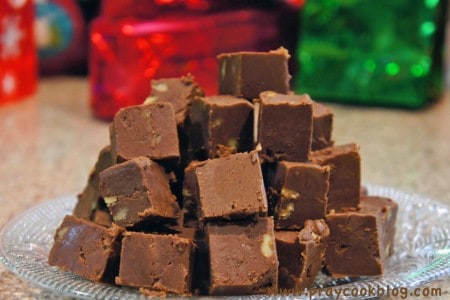 Fantasy Fudge made with ghirardelli chocolate and …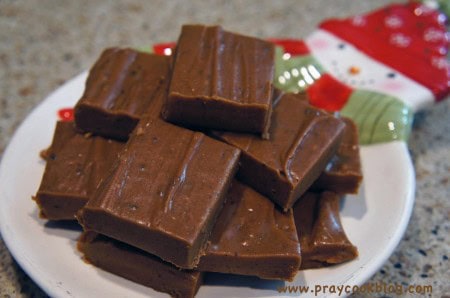 Peanut  Butter Fudge, made with the recipe from the Brown Eyed Baker.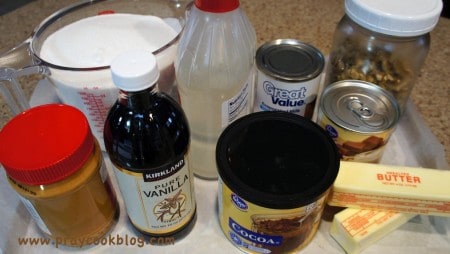 This is how it all starts.  Sugar, peanut butter, vanilla, corn syrup, evaporated milk, cocoa, and unsalted butter. When I took this picture I was going to add nuts, then decided against it.  (I know my friend Chuck will want to know what is in the jar – he is curious like that!) When I made this fudge I doubled the recipe.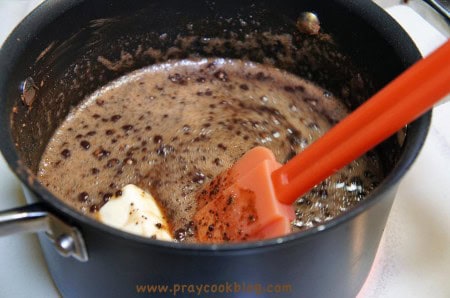 The sugar, cocoa, milk and corn syrup are cooked until the sugar dissolves.  I did not sift the sugar and cocoa together before adding to the milk and syrup.  Next time I will definitely sift them together first as I spent a lot of time crushing up the cocoa to mix it in.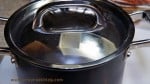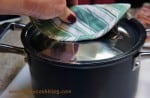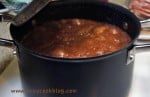 When the sugar dissolves butter is added. The mixture is then brought to a boil and covered for 3 minutes.  I was so curious what was happening during those 3 minutes and I couldn't resist taking a peek! 🙂  Yep, it was a lovely rolling boil!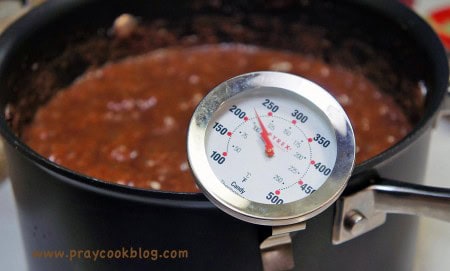 The mixture continues to cook until it reaches 234 degrees F. on a candy thermometer.  Once it reached 234 degrees I removed it from the heat, added the rest of the butter, peanut butter and vanilla.  Then the mixture sits for 10 minutes.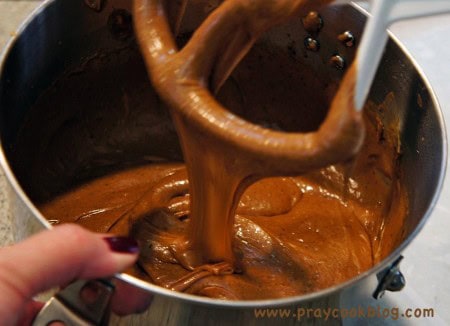 This is when a variety of ingredients become FUDGE!  The mixture is poured into the bowl of a stand mixer and beat on medium speed until it thickens and loses its gloss.  The recipes says to mix by hand, hand mixer or stand mixer.  Get out the stand mixer, I can't even imagine doing this by hand! This can take from 5 minutes to 15 minutes.  My Kitchen Aid mixer took 11 minutes and the fudge thickened and lost it's gloss right before my eyes! Christmas magic!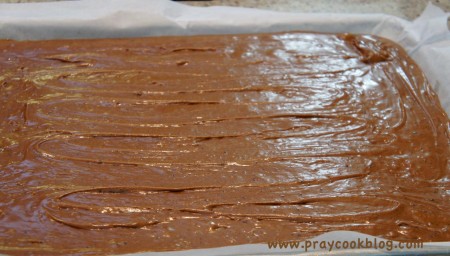 I poured the fudge into a pan I had lined with parchment paper.  Then the fudge was chilled in the refrigerator until it was set.  Lining the pan with paper makes cutting it later very easy since you can just lift out the paper and fudge laying it flat.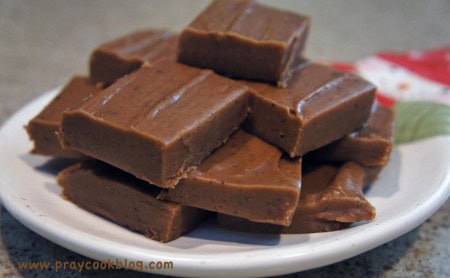 Ann, this fudge is for you! And for the rest of you … continue reading to find out how you can win this week's cookbook giveaway.
Peanut Butter Fudge and a Cookbook Giveaway!
Ingredients
2½ cups granulated sugar
¼ cup cocoa powder
1 cup evaporated canned milk
1 tablespoon light corn syrup
½ cup unsalted butter, divided
½ cup peanut butter, creamy or crunchy
2 teaspoons vanilla extract
Instructions
Butter an 8-inch square pan and line with parchment paper, using enough so that there is some overhang on the edges.
Combine the sugar and cocoa powder (sifting together if necessary to mix well.) In a medium saucepan cook sugar, cocoa, evaporated milk, and corn syrup over medium heat. Stir constantly until the sugar dissolves.
Continue to cook, adding 2 tablespoons of butter and stir until the butter melts. Allow the mixture to come to a boil, then cover and boil for 3 minutes.
Remove the lid and continue to cook, without stirring, until the mixture reaches 234 degrees F. on a candy thermometer (soft ball stage.) Remove from the heat and, without stirring, add the remaining butter, peanut butter and vanilla. Transfer the mixture to the bowl of a stand mixer and allow the mixture to sit for 10 minutes.
Turn mixer on medium speed and beat the fudge vigorously until it thickens and begins to lose its gloss. This can take anywhere from 5 to 15 minutes. Be careful to mix only until it thickens and loses its gloss. Do not overmix.
Immediately pour the mixture into the prepared pan. All the fudge to come to room temperature, then cover the pan with plastic wrap and chill it until set. Lift the fudge out of the pan using the parchment paper and cut into 1-inch squares.
Notes
Fudge can be mixed vigorously using a wooden spoon (if you have an arm of steel) or a hand mixer or best used is a stand mixer.

The fudge can be stored in an airtight container at cool room temperature or in the refrigerator.

Recipe adapted from The Brown Eyed Baker.com
Nutrition Information
Serving size:
1\\\\\\\\\\\\\\\" square
How to Enter
To enter to win, simply leave a comment on this post.
You can receive up to FOUR additional entries to win by doing the following:
1. Subscribe to My Daily Bread Body and Soul by either RSS or email. Come back and let me know you've subscribed in an additional comment.
2.

Become a fan of My Daily Bread Body and Soul on Facebook. Come back and let me know you became a fan in an additional comment.

3. Follow My Daily Bread Body and Soul on Pinterest. Come back and let me know you became a fan in an additional comment.

4. Follow Me on Twitter. Come back and let me know you started following on Twitter.
Deadline: Wednesday, December 19, at 11:59pm CST.
Winner: The winner will be chosen at random using Random.org and announced at the top of this post on Thursday, December 20.
Disclaimer: This giveaway is sponsored by Pray Cook Blog, My Daily Bread Body and Soul. Good luck!
Merry Christmas and keep on cooking!
~Blessings, Catherine