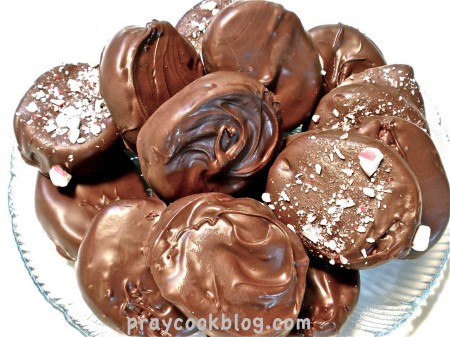 Jet-Puffed JUMBO Peppermint Mallows are back!  Why is this important to you? Because if you want to be the hit of the Christmas goodie parade you are going to want to use these super-charged, JUMBO peppermint-infused marshmallows to make some awesome Peppermint Patties!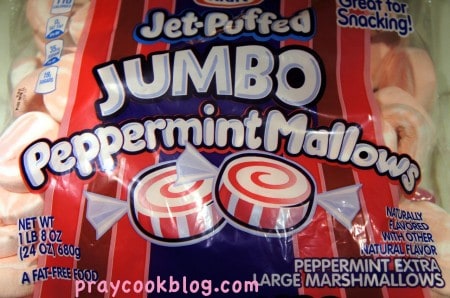 In December 2011 I stumbled upon these mallows while shopping for groceries that really mattered – like meat, vegetables, milk, and chocolate. 🙂
I absently threw a bag into my cart thinking they might be good for something during the Christmas baking craze I was about to cause in my kitchen.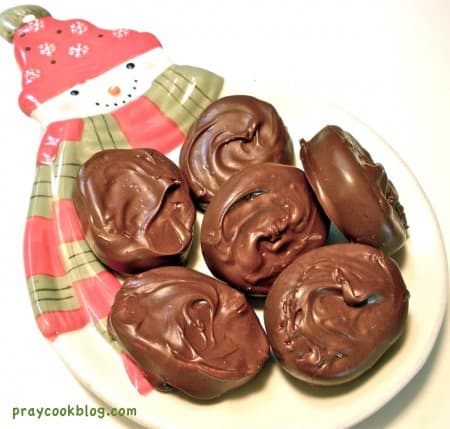 A few days later I mixed a little almond bark with a few chocolate chips and tossed a couple jumbo peppermint mallows into the warm, dripping, chocolately mixture.  What happened after that only happens say, every two years.  That is because Kraft in their infinite wisdom chose not to produce these awesome Jet-Puffed JUMBO Peppermint Mallows in 2012. 🙁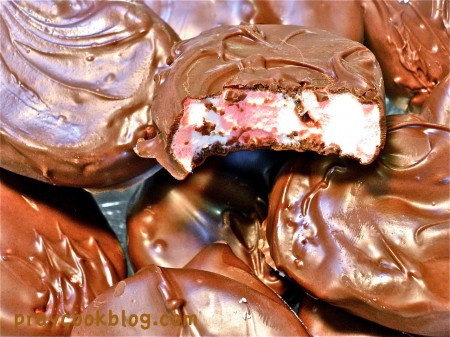 Fast forward to today, December 15, 2013.  I did the really unthinkable and actually ventured into Wal-Mart after church to pick up a few items.  Even my smarter-than-the-average hillbilly husband said, "you want to go to Wal-Mart on Sunday afternoon?  Are you crazy?"
"Yes I am, now let's get going."
Kismet. Serendipity. God smiling on me.  Call it whatever you want because I was casually walking down the middle aisle when my eyes dropped to the bottom shelf of all the baking goodies and there I saw them — Jet-Puffed JUMBO Peppermint Mallows.
I am pretty sure I could go on some more about today's super-find, but I am heading to the kitchen. I've got chocolate and almond bark to melt, mallows to dip, friends and family to make happy.  Very, very happy.
Happy Dipping!
Catherine
P.S.  On the back of the package is a recipe for … Peppermint Patties.  That recipe wasn't there two years ago.  Might they have read my blog post?  ha! ha!
Peppermint Patties
You will be the hit of the Christmas parade when you serve these awesome homemade peppermint patties. Every chocolate lover's delight!
Ingredients
1 cup chocolate chips
8 oz. chocolate almond bark
30 +/- Jumbo Peppermint Marshmallows
Instructions
Combine chocolate chips and chocolate almond bark and microwave for 1 minute. Remove from microwave and stir. Cook on high for another 30 seconds. Do not over cook.
Dip each marshmallow in the melted chocolate. Shake gently and place on foil. Leave plain or sprinkle with crushed peppermint candy.
Share with every chocolate lover you know!